BECA 008P Piston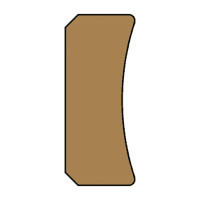 Description
The BECA 008P Piston profile is a back-up ring cut at 30°, which has a concave shape that allows it to fit snugly against the O'Ring. The ring is systematically assembled in tandem with an O'Ring and an X'Ring. An uncut version of this profile can be made.
Advantages
Used in static and dynamic applications
May be used for alternating movement applications
Large contact surface area, which protects the O'Ring from deformation caused by pulsating pressures
Preferred assembly in a closed groove for profiles cut at 30°
Assembly in open groove for uncut profiles
Technical data
Temperature

-200°C/+260°C

Pressure

< 250 MPa in static applications
< 20 MPa in alternating applications

Speed

2 m/s in alternating applications

Medias

The majority of liquids, or gaseous or chemical fluids, depending on the type of material selected. Refer to our fluids-materials compatibility guide.
Applications
Automotive
Hydraulic equipment
Mobile machinery
Machine tools
Injection presses
Valves
Hydraulic cylinders
Materials
Standard virgin PTFE
Filled PTFE (fibreglass, carbon, bronze)
Other materials may be used
Dimensions
Installation drawing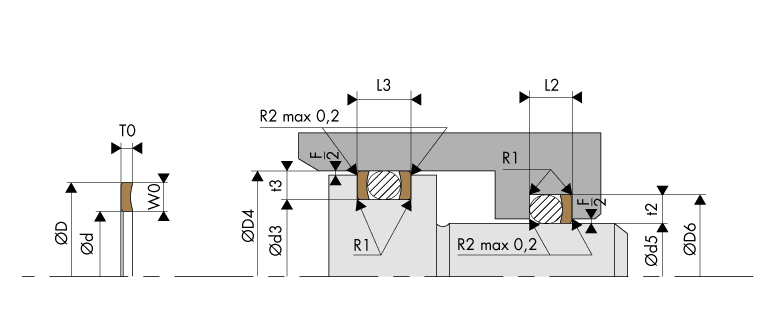 Materials
The table below indicates the main materials that may be considered for making BECA 008 P back-up rings.
| Materials | Code |
| --- | --- |
| Virgin PTFE | P |
| Fibreglass-filled PTFE | V |
| Bronze-filled PTFE | B |
| Carbon-filled PTFE | C |
| Polyurethane 93 Shore A / 96 Shore D | U |
| PEEK | T |
| Polyoxymethylene (POM) | H |
| Polyamide (PA) | D |
Design guidelines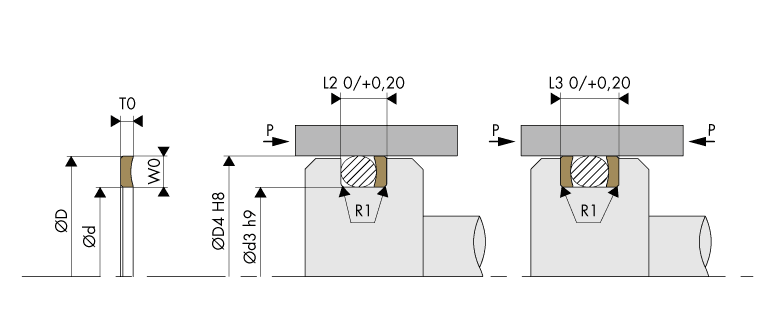 Installation dimensions in static and dynamic applications - External (cylinder) sealing only.
O'Ring
Back-up ring
Housing dimensions
Radius
Cross-section
Ød2
Radial height
W0
Thickness
Cylinder sealing
Groove width
Groove diameter
Ød3 h9
Static
Dynamic
static
dynamic
T0
static
dynamic
L2 0/+0.20
L3 0/+0.20
L2 0/+020
L3 0/+0.20
R1 ±0.20
1.50
1.10
1.10
1.00
D4 - 2.20
D4 - 2.20
3.20
4.20
3.25
4.25
0.25
1.60
1.15
1.20
1.00
D4 - 2.30
D4 - 2.40
3.50
4.50
3.40
4.40
0.25
1.78
1.30
1.35
1.40
D4 - 2.60
D4 - 2.70
4.10
5.50
4.00
5.40
0.25
1.80
1.30
1.35
1.40
D4 - 2.60
D4 - 2.70
4.10
5.50
4.00
5.40
0.25
2.00
1.50
1.55
1.40
D4 - 3.00
D4 - 3.10
4.30
5.70
4.20
5.60
0.25
2.40
1.80
1.90
1.40
D4 - 3.60
D4 - 3.80
4.80
6.20
4.60
6.00
0.25
2.50
1.90
1.95
1.40
D4 - 3.80
D4 - 3.90
4.90
6.30
4.80
6.20
0.25
2.62
2.00
2.05
1.40
D4 - 4.00
D4 - 4.10
5.00
6.40
4.90
6.30
0.25
2.65
2.00
2.10
1.40
D4 - 4.00
D4 - 4.20
5.10
6.50
4.90
6.30
0.25
3.00
2.30
2.40
1.40
D4 - 4.60
D4 - 4.80
5.90
7.30
5.70
7.10
0.25
3.53
2.70
2.85
1.40
D4 - 5.40
D4 - 5.70
6.50
7.90
6.30
7.70
0.25
3.55
2.70
2.90
1.40
D4 - 5.40
D4 - 5.80
6.60
8.00
6.30
7.70
0.25
4.00
3.10
3.25
1.40
D4 - 6.20
D4 - 6.50
7.00
8.40
6.80
8.20
0.25
5.00
4.00
4.10
1.70
D4 - 8.00
D4 - 8.20
8.40
10.10
8.30
10.00
0.25
5.30
4.30
4.40
1.70
D4 - 8.60
D4 - 8.80
8.60
10.30
8.50
10.20
0.25
5.33
4.30
4.40
1.70
D4 - 8.60
D4 - 8.80
8.80
10.50
8.50
10.20
0.25
5.70
4.60
4.80
1.70
D4 - 9.20
D4 - 9.60
9.10
10.80
8.80
10.50
0.25
6.00
4.90
5.10
1.70
D4 - 9.80
D4 - 10.20
9.50
11.20
9.10
10.80
0.25
6.99
5.80
5.90
2.50
D4 - 11.60
D4 - 11.80
11.80
14.30
11.70
14.20
0.25
8.00
6.70
7.00
2.50
D4 - 13.40
D4 - 14.00
12.70
15.20
12.40
14.90
0.25
8.40
7.10
7.30
2.50
D4 - 14.20
D4 - 14.60
13.00
15.50
12.80
15.30
0.25
92 dimensions found
| | | | | | | | | |
| --- | --- | --- | --- | --- | --- | --- | --- | --- |
| 008.006034 | 6,0 x 1,3 x 1,4 | 6,00 | 3,40 | 4,10 | 5,50 | 0,25 | 010.1A039 | 2,90 x 1,78 |
| 008.006038 | 6,0 x 1,1 x 1,0 | 6,00 | 3,80 | 3,20 | 4,20 | 0,25 | 010.1B165 | 3,50 x 1,50 |
| 008.008058 | 8,0 x 1,1 x 1,0 | 8,00 | 5,80 | 3,20 | 4,20 | 0,25 | 010.1B180 | 5,50 x 1,50 |
| 008.010078 | 10,0 x 1,1 x 1,0 | 10,00 | 7,80 | 3,20 | 4,20 | 0,25 | 010.1B189 | 7,50 x 1,50 |
| 008.012009 | 12,0 x 1,5 x 1,4 | 12,00 | 9,00 | 4,30 | 5,70 | 0,25 | 010.1B487 | 8,50 x 2,00 |
| 008.012094 | 12,0 x 1,3 x 1,4 | 12,00 | 9,40 | 4,10 | 5,50 | 0,25 | 010.1A048 | 9,25 x 1,78 |
| 008.014011 | 14,0 x 1,5 x 1,4 | 14,00 | 11,00 | 4,30 | 5,70 | 0,25 | 010.1B492 | 10,00 x 2,00 |
| 008.014114 | 14,0 x 1,3 x 1,4 | 14,00 | 11,40 | 4,10 | 5,50 | 0,25 | 010.1A050 | 10,82 x 1,78 |
| 008.015124 | 15,0 x 1,3 x 1,4 | 15,00 | 12,40 | 4,10 | 5,50 | 0,25 | 010.1A052 | 12,42 x 1,78 |
| 008.016013 | 16,0 x 1,5 x 1,4 | 16,00 | 13,00 | 4,30 | 5,70 | 0,25 | 010.1B498 | 12,00 x 2,00 |
| 008.016134 | 16,0 x 1,3 x 1,4 | 16,00 | 13,40 | 4,10 | 5,50 | 0,25 | 010.1A053 | 14,00 x 1,78 |
| 008.018154 | 18,0 x 1,3 x 1,4 | 18,00 | 15,40 | 4,10 | 5,50 | 0,25 | 010.1A054 | 15,60 x 1,78 |
| 008.020017 | 20,0 x 1,5 x 1,4 | 20,00 | 17,00 | 4,30 | 5,70 | 0,25 | 010.1B519 | 16,00 x 2,00 |
| 008.020174 | 20,0 x 1,3 x 1,4 | 20,00 | 17,40 | 4,10 | 5,50 | 0,25 | 010.1A055 | 17,17 x 1,78 |
| 008.022019 | 22,0 x 1,5 x 1,4 | 22,00 | 19,00 | 4,30 | 5,70 | 0,25 | 010.1B519 | 16,00 x 2,00 |
| 008.022194 | 22,0 x 1,3 x 1,4 | 22,00 | 19,40 | 4,10 | 5,50 | 0,25 | 010.1A056 | 18,77 x 1,78 |
| 008.025022 | 25,0 x 1,5 x 1,4 | 25,00 | 22,00 | 4,30 | 5,70 | 0,25 | 010.1B534 | 21,00 x 2,00 |
| 008.025224 | 25,0 x 1,3 x 1,4 | 25,00 | 22,40 | 4,10 | 5,50 | 0,25 | 010.1A058 | 21,95 x 1,78 |
| 008.028234 | 28,0 x 2,3 x 1,4 | 28,00 | 23,40 | 5,90 | 7,30 | 0,25 | 010.1BE19 | 22,00 x 3,00 |
| 008.028024 | 28,0 x 2,0 x 1,4 | 28,00 | 24,00 | 5,00 | 6,40 | 0,25 | 010.1A205 | 23,47 x 2,62 |
| 008.030254 | 30,0 x 1,5 x 1,4 | 30,00 | 25,40 | 4,30 | 5,70 | 0,25 | 010.1B543 | 24,00 x 2,00 |
| 008.030026 | 30,0 x 2,0 x 1,4 | 30,00 | 26,00 | 5,00 | 6,40 | 0,25 | 010.1A207 | 25,07 x 2,62 |
| 008.032274 | 32,0 x 2,3 x 1,4 | 32,00 | 27,40 | 5,90 | 7,30 | 0,25 | 010.1BE34 | 26,00 x 3,00 |
| 008.035304 | 35,0 x 2,3 x 1,4 | 35,00 | 30,40 | 5,90 | 7,30 | 0,25 | 010.1A294 | 29,20 x 3,00 |
| 008.035031 | 35,0 x 2,0 x 1,4 | 35,00 | 31,00 | 5,00 | 6,40 | 0,25 | 010.1A210 | 29,82 x 2,62 |
| 008.040354 | 40,0 x 2,3 x 1,4 | 40,00 | 35,40 | 5,90 | 7,30 | 0,25 | 010.1BE73 | 34,00 x 3,00 |
| 008.042374 | 42,0 x 2,3 x 1,4 | 42,00 | 37,40 | 5,90 | 7,30 | 0,25 | 010.1A304 | 36,00 x 3,00 |
| 008.042038 | 42,0 x 2,0 x 1,4 | 42,00 | 38,00 | 5,00 | 6,40 | 0,25 | 010.1A214 | 36,17 x 2,62 |
| 008.045040 | 45,0 x 2,3 x 1,4 | 45,00 | 40,00 | 5,90 | 7,30 | 0,25 | 010.1BE94 | 39,00 x 3,00 |
| 008.045041 | 45,0 x 2,0 x 1,4 | 45,00 | 41,00 | 5,00 | 6,40 | 0,25 | 010.1A216 | 39,34 x 2,62 |
| 008.048418 | 48,0 x 3,1 x 1,7 | 48,00 | 41,80 | 7,30 | 9,00 | 0,25 | 010.1BS39 | 40,00 x 4,00 |
| 008.048426 | 48,0 x 2,7 x 1,4 | 48,00 | 42,60 | 6,50 | 7,90 | 0,25 | 010.1A382 | 40,87 x 3,53 |
| 008.050438 | 50,0 x 3,1 x 1,7 | 50,00 | 43,80 | 7,30 | 9,00 | 0,25 | 010.1BS45 | 42,00 x 4,00 |
| 008.050446 | 50,0 x 2,7 x 1,4 | 50,00 | 44,60 | 6,50 | 7,90 | 0,25 | 010.1A385 | 44,04 x 3,53 |
| 008.052458 | 52,0 x 3,1 x 1,7 | 52,00 | 45,80 | 7,30 | 9,00 | 0,25 | 010.1BS51 | 44,00 x 4,00 |
| 008.052466 | 52,0 x 2,7 x 1,4 | 52,00 | 46,60 | 6,50 | 7,90 | 0,25 | 010.1A385 | 44,04 x 3,53 |
| 008.055488 | 55,0 x 3,1 x 1,7 | 55,00 | 48,80 | 7,30 | 9,00 | 0,25 | 010.1BS60 | 47,00 x 4,00 |
| 008.055496 | 55,0 x 2,7 x 1,4 | 55,00 | 49,60 | 6,50 | 7,90 | 0,25 | 010.1A388 | 47,22 x 3,53 |
| 008.060538 | 60,0 x 3,1 x 1,7 | 60,00 | 53,80 | 7,30 | 9,00 | 0,25 | 010.1BS72 | 52,00 x 4,00 |
| 008.060546 | 60,0 x 2,7 x 1,4 | 60,00 | 54,60 | 6,50 | 7,90 | 0,25 | 010.1A394 | 53,57 x 3,53 |
| 008.063568 | 63,0 x 3,1 x 1,7 | 63,00 | 56,80 | 7,30 | 9,00 | 0,25 | 010.1A480 | 55,00 x 4,00 |
| 008.063576 | 63,0 x 2,7 x 1,4 | 63,00 | 57,60 | 6,50 | 7,90 | 0,25 | 010.1A397 | 56,74 x 3,53 |
| 008.065588 | 65,0 x 3,1 x 1,7 | 65,00 | 58,80 | 7,30 | 9,00 | 0,25 | 010.1BS87 | 57,00 x 4,00 |
| 008.065596 | 65,0 x 2,7 x 1,4 | 65,00 | 59,60 | 6,50 | 7,90 | 0,25 | 010.1A397 | 56,74 x 3,53 |
| 008.070638 | 70,0 x 3,1 x 1,7 | 70,00 | 63,80 | 7,30 | 9,00 | 0,25 | 010.1BT02 | 62,00 x 4,00 |
| 008.070646 | 70,0 x 2,7 x 1,4 | 70,00 | 64,60 | 6,50 | 7,90 | 0,25 | 010.1A403 | 63,09 x 3,53 |
| 008.075688 | 75,0 x 3,1 x 1,7 | 75,00 | 68,80 | 7,30 | 9,00 | 0,25 | 010.1BT14 | 67,00 x 4,00 |
| 008.075696 | 75,0 x 2,7 x 1,4 | 75,00 | 69,60 | 6,50 | 7,90 | 0,25 | 010.1A406 | 66,27 x 3,53 |
| 008.080738 | 80,0 x 3,1 x 1,7 | 80,00 | 73,80 | 7,30 | 9,00 | 0,25 | 010.1BT26 | 72,00 x 4,00 |
| 008.080746 | 80,0 x 2,7 x 1,4 | 80,00 | 74,60 | 6,50 | 7,90 | 0,25 | 010.1A412 | 72,62 x 3,53 |
| 008.085788 | 85,0 x 3,1 x 1,7 | 85,00 | 78,80 | 7,30 | 9,00 | 0,25 | 010.1BT41 | 77,00 x 4,00 |
| 008.085796 | 85,0 x 2,7 x 1,4 | 85,00 | 79,60 | 6,50 | 7,90 | 0,25 | 010.1A416 | 78,97 x 3,53 |
| 008.090814 | 90,0 x 4,3 x 1,7 | 90,00 | 81,40 | 8,80 | 10,50 | 0,25 | 010.1A558 | 78,74 x 5,33 |
| 008.090082 | 90,0 x 4,0 x 1,7 | 90,00 | 82,00 | 8,40 | 10,10 | 0,25 | 010.1BK53 | 80,00 x 5,00 |
| 008.095864 | 95,0 x 4,3 x 1,7 | 95,00 | 86,40 | 8,80 | 10,50 | 0,25 | 010.1A561 | 85,09 x 5,33 |
| 008.095087 | 95,0 x 4,0 x 1,7 | 95,00 | 87,00 | 8,40 | 10,10 | 0,25 | 010.1BK53 | 80,00 x 5,00 |
| 008.100914 | 100,0 x 4,3 x 1,7 | 100,00 | 91,40 | 8,80 | 10,50 | 0,25 | 010.1A564 | 91,44 x 5,33 |
| 008.100092 | 100,0 x 4,0 x 1,7 | 100,00 | 92,00 | 8,40 | 10,10 | 0,25 | 010.1BK68 | 90,00 x 5,00 |
| 008.105964 | 105,0 x 4,3 x 1,7 | 105,00 | 96,40 | 8,80 | 10,50 | 0,25 | 010.1A565 | 94,62 x 5,33 |
| 008.105097 | 105,0 x 4,0 x 1,7 | 105,00 | 97,00 | 8,40 | 10,10 | 0,25 | 010.1BK77 | 95,00 x 5,00 |
| 008.110101 | 110,0 x 4,3 x 1,7 | 110,00 | 101,40 | 8,80 | 10,50 | 0,25 | 010.1A568 | 100,97 x 5,33 |
| 008.110102 | 110,0 x 4,0 x 1,7 | 110,00 | 102,00 | 8,40 | 10,10 | 0,25 | 010.1BK86 | 100,00 x 5,00 |
| 008.115106 | 115,0 x 4,3 x 1,7 | 115,00 | 106,40 | 8,80 | 10,50 | 0,25 | 010.1A569 | 104,14 x 5,33 |
| 008.115107 | 115,0 x 4,0 x 1,7 | 115,00 | 107,00 | 8,40 | 10,10 | 0,25 | 010.1BK98 | 105,00 x 5,00 |
| 008.120111 | 120,0 x 4,3 x 1,7 | 120,00 | 111,40 | 8,80 | 10,50 | 0,25 | 010.1A572 | 110,49 x 5,33 |
| 008.120112 | 120,0 x 4,0 x 1,7 | 120,00 | 112,00 | 8,40 | 10,10 | 0,25 | 010.1BW07 | 110,00 x 5,00 |
| 008.125116 | 125,0 x 4,3 x 1,7 | 125,00 | 116,40 | 8,80 | 10,50 | 0,25 | 010.1A573 | 113,67 x 5,33 |
| 008.125117 | 125,0 x 4,0 x 1,7 | 125,00 | 117,00 | 8,40 | 10,10 | 0,25 | 010.1BW16 | 115,00 x 5,00 |
| 008.130121 | 130,0 x 4,3 x 1,7 | 130,00 | 121,40 | 8,80 | 10,50 | 0,25 | 010.1A576 | 120,02 x 5,33 |
| 008.130122 | 130,0 x 4,0 x 1,7 | 130,00 | 122,00 | 8,40 | 10,10 | 0,25 | 010.1A489 | 120,00 x 5,00 |
| 008.135123 | 135,0 x 5,8 x 2,5 | 135,00 | 123,40 | 11,80 | 14,30 | 0,25 | 010.1A741 | 120,02 x 6,99 |
| 008.140128 | 140,0 x 5,8 x 2,5 | 140,00 | 128,40 | 11,80 | 14,30 | 0,25 | 010.1A744 | 126,37 x 6,99 |
| 008.150138 | 150,0 x 5,8 x 2,5 | 150,00 | 138,40 | 11,80 | 14,30 | 0,25 | 010.1A748 | 135,89 x 6,99 |
| 008.160148 | 160,0 x 5,8 x 2,5 | 160,00 | 148,40 | 11,80 | 14,30 | 0,25 | 010.1A751 | 145,42 x 6,99 |
| 008.170158 | 170,0 x 5,8 x 2,5 | 170,00 | 158,40 | 11,80 | 14,30 | 0,25 | 010.1A755 | 158,12 x 6,99 |
| 008.180168 | 180,0 x 5,8 x 2,5 | 180,00 | 168,40 | 11,80 | 14,30 | 0,25 | 010.1A758 | 164,47 x 6,99 |
| 008.190178 | 190,0 x 5,8 x 2,5 | 190,00 | 178,40 | 11,80 | 14,30 | 0,25 | 010.1A763 | 177,17 x 6,99 |
| 008.200188 | 200,0 x 5,8 x 2,5 | 200,00 | 188,40 | 11,80 | 14,30 | 0,25 | 010.1A765 | 183,52 x 6,99 |
| 008.210198 | 210,0 x 5,8 x 2,5 | 210,00 | 198,40 | 11,80 | 14,30 | 0,25 | 010.1A769 | 196,22 x 6,99 |
| 008.220208 | 220,0 x 5,8 x 2,5 | 220,00 | 208,40 | 11,80 | 14,30 | 0,25 | 010.1A771 | 202,57 x 6,99 |
| 008.230218 | 230,0 x 5,8 x 2,5 | 230,00 | 218,40 | 11,80 | 14,30 | 0,25 | 010.1A773 | 215,27 x 6,99 |
| 008.240228 | 240,0 x 5,8 x 2,5 | 240,00 | 228,40 | 11,80 | 14,30 | 0,25 | 010.1A775 | 227,97 x 6,99 |
| 008.250238 | 250,0 x 5,8 x 2,5 | 250,00 | 238,40 | 11,80 | 14,30 | 0,25 | 010.1A777 | 240,67 x 6,99 |
| 008.280268 | 280,0 x 5,8 x 2,5 | 280,00 | 268,40 | 11,80 | 14,30 | 0,25 | 010.1A781 | 266,07 x 6,99 |
| 008.300288 | 300,0 x 5,8 x 2,5 | 300,00 | 288,40 | 11,80 | 14,30 | 0,25 | 010.1A783 | 278,77 x 6,99 |
| 008.320308 | 320,0 x 5,8 x 2,5 | 320,00 | 308,40 | 11,80 | 14,30 | 0,25 | 010.1A787 | 304,17 x 6,99 |
| 008.350338 | 350,0 x 5,8 x 2,5 | 350,00 | 338,40 | 11,80 | 14,30 | 0,25 | 010.1A789 | 329,57 x 6,99 |
| 008.400388 | 400,0 x 5,8 x 2,5 | 400,00 | 388,40 | 11,80 | 14,30 | 0,25 | 010.1A793 | 380,37 x 6,99 |
| 008.420408 | 420,0 x 5,8 x 2,5 | 420,00 | 408,40 | 11,80 | 14,30 | 0,25 | 010.1A795 | 405,26 x 6,99 |
| 008.450438 | 450,0 x 5,8 x 2,5 | 450,00 | 438,40 | 11,80 | 14,30 | 0,25 | 010.1A797 | 430,66 x 6,99 |
| 008.480468 | 480,0 x 5,8 x 2,5 | 480,00 | 468,40 | 11,80 | 14,30 | 0,25 | 010.1A799 | 456,06 x 6,99 |
| 008.500488 | 500,0 x 5,8 x 2,5 | 500,00 | 488,40 | 11,80 | 14,30 | 0,25 | 010.1A801 | 481,46 x 6,99 |