Seal kits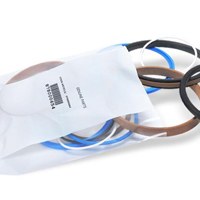 In Aftermarket world, the custom-made sealing kits are some of the main components in various parts. Among those who purchase these types of parts are industrial vehicle, hydraulic equipment and pneumatic equipment manufacturers. In Aftermarket, the scale of requirements has led these large companies that use the seals, across all fields, to source them from a large number of suppliers, thus multiplying the number of seals sold and included in a kit.

To deal with the sheer weight of organising this, France Joint offers its skill set as a unique supply source, thereby greatly easing the management of your retail seals and custom-made sealing kits for each application; the experience and quality of service provided by France Joint blends with your day-to-day efficiency.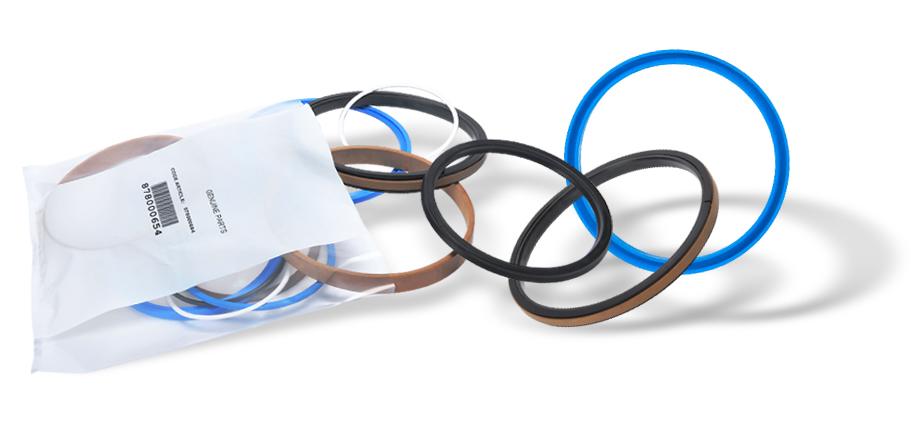 Today approved by major players in Europe's industry sectors, France Joint optimises the performance for each of its customers using its reputation for excellence:
Complete control of all of the production processes - compression moulding for rubbers, injection moulding for thermoplastics and machining for refined materials and tools, as well as other integrated technologies.
Trust -each custom-made seal kit is intended for a single customer, using France Joint's knowledge of the specifications and technical constraints.
Kit customisation - your product can be made distinct right up to the packaging (with bar code, customer logo and all the elements needed for complete traceability).
Complete interchangeability - France Joint's expertise means that it can replace equivalent high-performance sealing systems in line with ISO, DIN, JIS standards, etc.
Maintenance on older generation machines at a very reasonable cost - even though there may be relatively few of these seals available today. Even so, France Joint can make these products.
Fully qualified to make custom-made tools - France Joint has a unique expertise because it makes its own tools, particularly complex, custom-made seals, depending on the requirements of each customer and the part profiles suited to each plan or model provided.
Integrated storage centre and logistics platform - France Joint has excellent reactivity, ensuring the efficiency of each customer's Aftermarket distribution networks.

The custom-made sealing kits designed by France Joint are the product of more than 30 years' experience. More than 3000 customer-specific sealing kits have been created and customised, including a complete range of seals:
Hydraulic seals complete range of rod seals, piston seals, wiper seals and wear rings that can be used across a range of hydraulic applications and on all standard dimensions / Profiles suitable for internationally standardised housings / Customised solution development.
Rotary seals Complete range of standard and custom-made shaft seals, cassette seals, combi seals, PTFE seals, shaft seals with integrated back-up ring, high-pressure seals, V'Rings and floating seals. / Profiles adapted to your applications, reflecting different parameters - pressure, temperature, rotation speed and diameter, media, internal and external pollution level / Striation creation for flow direction / Custom profile creation in line with your needs.
Pneumatic seals Complete range of rod seals, piston seals, monobloc seals, cushioning seals, wiper seals, wear rings / Materials with excellent tribiological properties that reduce friction and wear / Profiles that ensure perfect operation, including during varied temperature, pressure and speed ranges.
Rubber precision seals that meet your requirements. Specific creation of custom-made moulded or machined precision parts using special materials and very complex geometries that are optimised to reduce friction / Creation of composite parts made by bonding rubbers to other materials (metals or plastic materials). / Special surface treatments (lubrication).
Superior material quality Design and manufacture of seals made from materials with advanced properties / All types of rubber: NBR, FKM, EPDM, ACM, AEM, HNBR, VMQ, FMVQ, FFKM, CR, NR / Other materials: Polyurethane, High-temperature Polyurethane, virgin PTFE and PTFE with various fillings, Polyamide, PEHD, PEEK, POM and Phenolic resin, among others.