BECA 473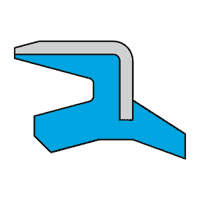 Description
The BECA 473 profile is a double acting wiper seal with a polyurethane metal cage.
Advantages
Tight and precise fitting in the housing
Very good wiping effect, both internally and externally
Excellent abrasion and wear resistance
Technical data
Temperature

-30°C/+110°C

Speed

1 m/s

Medias

Mineral hydraulic oils
Applications
Agriculture
Mobile machinery
Material handling - Lifting
Hydraulic cylinders
Materials
Profiled seal
Metal cage
Dimensions
Installation drawing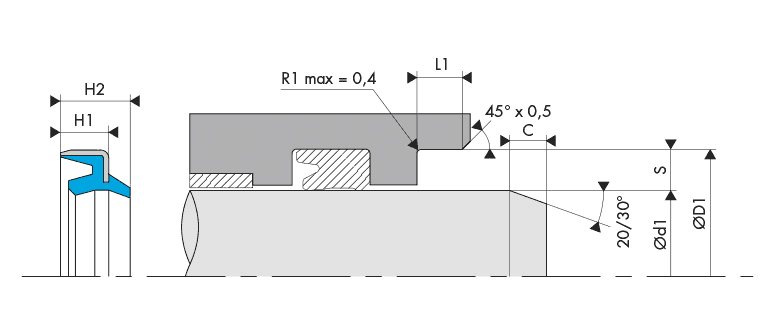 Materials
Metal cage
The table below shows the materials that we can offer for metal cages and springs.
Application
Material
Standard
Characteristics
Metal cage
Non-alloy standard steel
AISI 1010
(DIN 1624)
Cold rolled steel
Metal cage
Nickel chrome steel
AISI 304
(DIN 1.4301 - V2A)
Standard stainless steel
PU
Polyurethane is a material that has the elastic properties of rubber. The proportion in its composition (diisocyanate, polyol, chain extender) is determined by its properties. This material is characterised by a strong mechanical resistance, good wear resistance, high elastic modulus, good flexibility and a very good ozone and oxidation resistance.
Chemical resistance
Pure aliphatic hydrocarbons (propane, butane)
Mineral oils and greases
Silicone oils and greases
Water up to +50°C
Compatibility issue
Ketones, esters, ethers, alcohols and glycols
Hot water, steam, alkalis, amines and acids
Temperature range
-30°C/+90°C
-30°C / +110°C with our PUHT
Technical data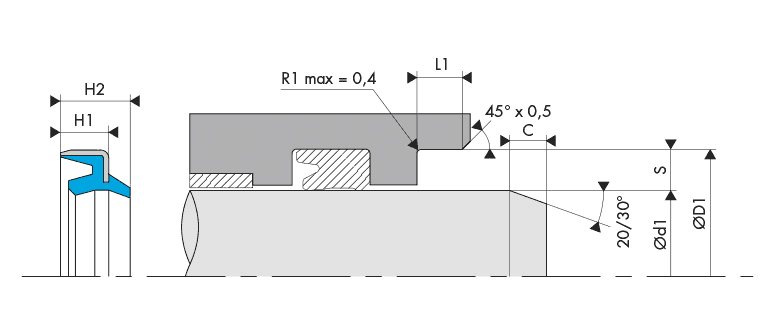 Surface roughness
| Roughness | Dynamic surface area | Static surface area | Groove flanks |
| --- | --- | --- | --- |
| Ra | 0.1 - 0.4 µm | ≤ 1.6 µm | ≤ 3.2 µm |
| Rz | 0.63 - 2.5 µm | ≤ 6.3 µm | ≤ 10.0 µm |
| Rmax | 1.0 - 4.0 µm | ≤ 10.0 µm | ≤ 16.0 µm |
Chamfer
The chamfer length as well as the chamfer angle are determined by the rod seal.
33 dimensions found
| | | | | |
| --- | --- | --- | --- | --- |
| 473.0200326 | 20,00 | 32,00 | 6,00 | 9,00 |
| 473.0250376 | 25,00 | 37,00 | 6,00 | 9,00 |
| 473.0280406 | 28,00 | 40,00 | 6,00 | 9,00 |
| 473.0300426 | 30,00 | 42,00 | 6,00 | 9,00 |
| 473.0320447 | 32,00 | 44,00 | 7,00 | 10,00 |
| 473.0340467 | 34,00 | 46,00 | 7,00 | 10,00 |
| 473.0350477 | 35,00 | 47,00 | 7,00 | 10,00 |
| 473.0360487 | 36,00 | 48,00 | 7,00 | 10,00 |
| 473.0380507 | 38,00 | 50,00 | 7,00 | 10,00 |
| 473.0400527 | 40,00 | 52,00 | 7,00 | 10,00 |
| 473.0450577 | 45,00 | 57,00 | 7,00 | 10,00 |
| 473.0500627 | 50,00 | 62,00 | 7,00 | 10,00 |
| 473.0550698 | 55,00 | 69,00 | 8,00 | 12,00 |
| 473.0560708 | 56,00 | 70,00 | 8,00 | 12,00 |
| 473.0600748 | 60,00 | 74,00 | 8,00 | 12,00 |
| 473.0630778 | 63,00 | 77,00 | 8,00 | 12,00 |
| 473.0650798 | 65,00 | 79,00 | 8,00 | 12,00 |
| 473.0700848 | 70,00 | 84,00 | 8,00 | 12,00 |
| 473.0750898 | 75,00 | 89,00 | 8,00 | 12,00 |
| 473.0800948 | 80,00 | 94,00 | 8,00 | 12,00 |
| 473.0850998 | 85,00 | 99,00 | 8,00 | 12,00 |
| 473.0901048 | 90,00 | 104,00 | 8,00 | 12,00 |
| 473.0951098 | 95,00 | 109,00 | 8,00 | 12,00 |
| 473.1001148 | 100,00 | 114,00 | 8,00 | 12,00 |
| 473.1051219 | 105,00 | 121,00 | 9,00 | 12,00 |
| 473.1101269 | 110,00 | 126,00 | 9,00 | 12,00 |
| 473.1151319 | 115,00 | 131,00 | 9,00 | 12,00 |
| 473.1201369 | 120,00 | 136,00 | 9,00 | 12,00 |
| 473.1251419 | 125,00 | 141,00 | 9,00 | 12,00 |
| 473.1301469 | 130,00 | 146,00 | 9,00 | 12,00 |
| 473.1351508 | 135,00 | 150,00 | 8,00 | 11,00 |
| 473.1401601 | 140,00 | 160,00 | 10,00 | 14,00 |
| 473.2002168 | 200,00 | 216,00 | 8,00 | 11,00 |