BECA 587


Description
The BECA 587 profile is a polyurethane pneumatic piston seal.
Technical data
Temperature

-30°C/+110°C

Pressure

1.6 MPa

Speed

1 m/s

Medias

Lubricated air
Oil-free air
Non-aggressive gases
Applications
Shock absorbers
Distributor
Standard cylinders
Materials
PU 93 Shore A - Blue
PU 96 Shore A - Blue
High temp. PU 96 Shore A - Beige
Dimensions
Installation drawing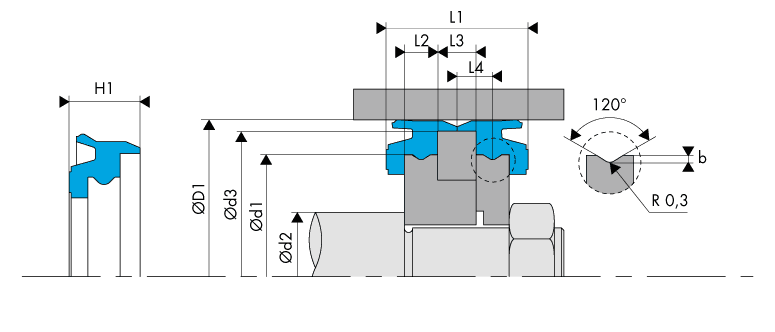 Materials
PU
Polyurethane is a material that has the elastic properties of rubber. The proportion in its composition (diisocyanate, polyol, chain extender) is determined by its properties. This material is characterised by a strong mechanical resistance, good wear resistance, high elastic modulus, good flexibility and a very good ozone and oxidation resistance.
Chemical resistance
Pure aliphatic hydrocarbons (propane, butane)
Mineral oils and greases
Silicone oils and greases
Water up to +50°C
Compatibility issue
Ketones, esters, ethers, alcohols and glycols
Hot water, steam, alkalis, amines and acids
Temperature range
-30°C/+90°C
-30°C / +110°C with our special PU
Technical data

Surface roughness
| Roughness | Dynamic surface area | Static surface area | Groove flanks |
| --- | --- | --- | --- |
| Ra | 0.1 - 0.4 µm | ≤ 1.6 µm | ≤ 3.2 µm |
| Rz | 0.63 - 2.5 µm | ≤ 6.3 µm | ≤ 10.0 µm |
| Rmax | 1.0 - 4.0 µm | ≤ 10.0 µm | ≤ 16.0 µm |