BECA 231/B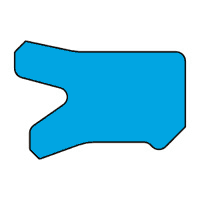 Description
The BECA 231/B profile is a polyurethane U-ring type single acting rod seal with asymmetrical sealing lips and a second sealing lip. It can be assembled in a groove according to standard ISO 5597.
Advantages
Optimised sealing effect at both high and low pressures
Excellent abrasion and wear resistance
Assembly by deformation in closed groove
Technical data
Temperature

-30°C/+110°C

Pressure

40 MPa

Speed

0.5 m/s

Medias

Mineral hydraulic oils
Applications
Mobile machinery
Injection presses
Machine tools
Presses
Hydraulic cylinders
Materials
PU 93 Shore A - Blue
PU 96 Shore A - Blue
High temp. PU 96 Shore A - Beige
Dimensions
Installation drawing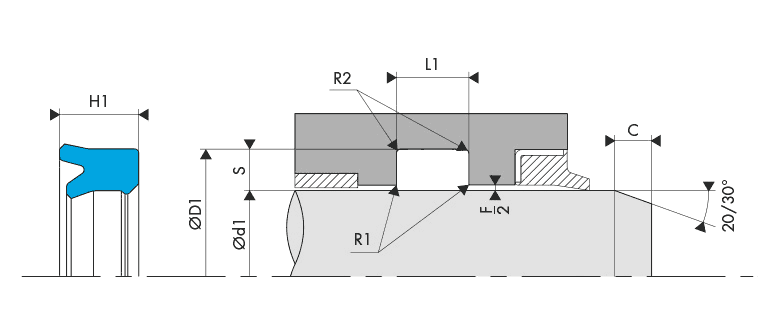 Materials
PU
Polyurethane is a material that has the elastic properties of rubber. The proportion in its composition (diisocyanate, polyol, chain extender) is determined by its properties. This material is characterised by a strong mechanical resistance, good wear resistance, high elastic modulus, good flexibility and a very good ozone and oxidation resistance.
Chemical resistance
Pure aliphatic hydrocarbons (propane, butane)
Mineral oils and greases
Silicone oils and greases
Water up to +50°C
Compatibility issue
Ketones, esters, ethers, alcohols and glycols
Hot water, steam, alkalis, amines and acids
Temperature range
-30°C/+90°C
-30°C / +110°C with our PUHT (short term peak at 150°C)
Technical data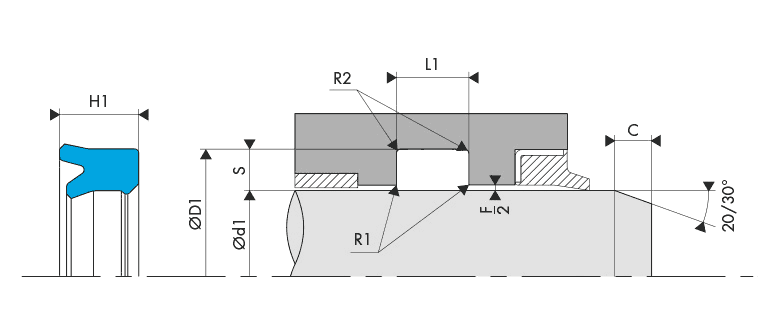 Extrusion gaps
Rod diameter
Ød1
Radial extrusion gap
F/2
≤ 5 MPa
≤ 10 MPa
≤ 20 MPa
≤ 30 MPa
≤ 40 MPa
≤ 60 mm
0.40
0.30
0.20
0.15
0.10
> 60 mm
0.50
0.40
0.30
0.20
0.15
Surface roughness
| Roughness | Dynamic surface area | Static surface area | Groove flanks |
| --- | --- | --- | --- |
| Ra | 0.1 - 0.4 µm | ≤ 1.6 µm | ≤ 3.2 µm |
| Rz | 0.63 - 2.5 µm | ≤ 6.3 µm | ≤ 10.0 µm |
| Rmax | 1.0 - 4.0 µm | ≤ 10.0 µm | ≤ 16.0 µm |
Chamfers and radius
Radial section
S
Radius
R1
Radius
R2
Chamfer
C
3.50
0.20
0.40
2.00
4.00
0.20
0.60
2.50
5.00
0.20
1.00
2.50
7.50
0.20
1.00
4.00
12.50
0.20
1.30
6.00
20.00
0.20
1.80
8.00
118 dimensions found
| | | | | |
| --- | --- | --- | --- | --- |
| 231.0120184 | 12,00 | 18,00 | 4,00 | 4,50 |
| 231.0120185 | 12,00 | 18,00 | 5,00 | 6,00 |
| 231.0150215 | 15,00 | 21,00 | 4,50 | 5,00 |
| 231.0160226 | 16,00 | 22,00 | 5,00 | 6,00 |
| 231.0160235 | 16,00 | 23,00 | 5,00 | 5,60 |
| 231.0160246 | 16,00 | 24,00 | 5,70 | 6,30 |
| 231.0180255 | 18,00 | 25,00 | 5,00 | 5,60 |
| 231.0180266 | 18,00 | 26,00 | 5,70 | 6,30 |
| 231.0180288 | 18,00 | 28,00 | 8,00 | 9,00 |
| 231.0200265 | 20,00 | 26,00 | 5,00 | 5,50 |
| 231.0200275 | 20,00 | 27,00 | 5,00 | 5,60 |
| 231.0200286 | 20,00 | 28,00 | 5,70 | 6,30 |
| 231.0220295 | 22,00 | 29,00 | 5,00 | 5,60 |
| 231.0220306 | 22,00 | 30,00 | 5,70 | 6,30 |
| 231.0220309 | 22,00 | 30,00 | 8,00 | 9,00 |
| 231.0240305 | 24,00 | 30,00 | 4,50 | 5,00 |
| 231.0250321 | 25,00 | 32,00 | 10,00 | 11,00 |
| 231.0250325 | 25,00 | 32,00 | 5,00 | 5,60 |
| 231.0250336 | 25,00 | 33,00 | 5,70 | 6,30 |
| 231.0250339 | 25,00 | 33,00 | 8,00 | 9,00 |
| 231.0260361 | 26,00 | 36,00 | 10,00 | 11,00 |
| 231.0280366 | 28,00 | 36,00 | 5,70 | 6,30 |
| 231.0280388 | 28,00 | 38,00 | 7,00 | 8,00 |
| 231.0300367 | 30,00 | 36,00 | 6,30 | 7,00 |
| 231.0300386 | 30,00 | 38,00 | 5,70 | 6,30 |
| 231.0300387 | 30,00 | 38,00 | 6,30 | 7,00 |
| 231.0300407 | 30,00 | 40,00 | 7,00 | 8,00 |
| 231.0300431 | 30,00 | 43,00 | 10,00 | 11,00 |
| 231.0300461 | 30,00 | 46,00 | 9,00 | 10,00 |
| 231.0320406 | 32,00 | 40,00 | 5,70 | 6,30 |
| 231.0320428 | 32,00 | 42,00 | 7,00 | 8,00 |
| 231.0320471 | 32,00 | 47,00 | 10,00 | 11,00 |
| 231.0320481 | 32,00 | 48,00 | 10,00 | 11,00 |
| 231.0350436 | 35,00 | 43,00 | 5,70 | 6,30 |
| 231.0350519 | 35,00 | 51,00 | 9,00 | 10,00 |
| 231.0360446 | 36,00 | 44,00 | 5,70 | 6,30 |
| 231.0360461 | 36,00 | 46,00 | 10,00 | 11,00 |
| 231.0360468 | 36,00 | 46,00 | 7,00 | 8,00 |
| 231.0370471 | 37,00 | 47,00 | 10,00 | 11,00 |
| 231.0370478 | 37,00 | 47,00 | 8,00 | 9,00 |
| 231.0380482 | 38,00 | 48,00 | 12,00 | 13,00 |
| 231.0380487 | 38,00 | 48,00 | 6,60 | 7,20 |
| 231.0400486 | 40,00 | 48,00 | 5,70 | 6,30 |
| 231.0400489 | 40,00 | 48,00 | 8,00 | 9,00 |
| 231.0400506 | 40,00 | 50,00 | 6,00 | 7,00 |
| 231.0400508 | 40,00 | 50,00 | 7,00 | 8,00 |
| 231.0400528 | 40,00 | 52,00 | 8,00 | 9,00 |
| 231.0400550 | 40,00 | 55,00 | 10,00 | 11,00 |
| 231.0445571 | 44,45 | 57,15 | 8,00 | 9,00 |
| 231.0450536 | 45,00 | 53,00 | 5,70 | 6,30 |
| 231.0450539 | 45,00 | 53,00 | 8,00 | 9,00 |
| 231.0450558 | 45,00 | 55,00 | 7,00 | 8,00 |
| 231.0450612 | 45,00 | 61,00 | 12,00 | 13,00 |
| 231.0470561 | 47,00 | 56,30 | 9,00 | 10,00 |
| 231.0470569 | 47,00 | 56,30 | 8,00 | 9,00 |
| 231.0500582 | 50,00 | 58,00 | 10,90 | 12,00 |
| 231.0500586 | 50,00 | 58,00 | 5,70 | 6,30 |
| 231.0500608 | 50,00 | 60,00 | 7,00 | 8,00 |
| 231.0520621 | 52,00 | 62,00 | 10,00 | 11,00 |
| 231.0550638 | 55,00 | 63,00 | 7,30 | 8,00 |
| 231.0550639 | 55,00 | 63,00 | 8,00 | 9,00 |
| 231.0550652 | 55,00 | 65,00 | 12,00 | 13,00 |
| 231.0550656 | 55,00 | 65,00 | 6,00 | 7,00 |
| 231.0550701 | 55,00 | 70,00 | 10,00 | 11,00 |
| 231.0550709 | 55,00 | 70,00 | 9,00 | 10,00 |
| 231.0550752 | 55,00 | 75,00 | 12,00 | 13,00 |
| 231.0560667 | 56,00 | 66,00 | 6,80 | 7,50 |
| 231.0560712 | 56,00 | 71,00 | 11,50 | 12,50 |
| 231.0570669 | 57,16 | 66,70 | 9,50 | 10,50 |
| 231.0600719 | 60,00 | 71,00 | 8,00 | 9,00 |
| 231.0600751 | 60,00 | 75,00 | 11,50 | 12,50 |
| 231.0600752 | 60,00 | 75,00 | 12,00 | 13,00 |
| 231.0630737 | 63,00 | 73,00 | 6,80 | 7,50 |
| 231.0650802 | 65,00 | 80,00 | 12,00 | 13,00 |
| 231.0700781 | 70,00 | 78,00 | 10,90 | 12,00 |
| 231.0700807 | 70,00 | 80,00 | 6,80 | 7,50 |
| 231.0700852 | 70,00 | 85,00 | 11,50 | 12,50 |
| 231.0770872 | 77,00 | 87,00 | 12,00 | 13,00 |
| 231.0800907 | 80,00 | 90,00 | 6,80 | 7,50 |
| 231.0800952 | 80,00 | 95,00 | 11,50 | 12,50 |
| 231.0850944 | 85,00 | 94,00 | 14,00 | 15,00 |
| 231.0900981 | 90,00 | 98,00 | 10,90 | 12,00 |
| 231.0961062 | 96,00 | 106,00 | 12,00 | 13,00 |
| 231.1001082 | 100,00 | 108,00 | 11,50 | 12,50 |
| 231.1030040 | 30,00 | 40,00 | 10,00 | 11,00 |
| 231.1030045 | 30,00 | 45,00 | 10,00 | 11,00 |
| 231.1035045 | 35,00 | 45,00 | 10,00 | 11,00 |
| 231.1040050 | 40,00 | 50,00 | 10,00 | 11,00 |
| 231.1040055 | 40,00 | 55,00 | 11,50 | 12,50 |
| 231.1045053 | 45,00 | 53,00 | 10,00 | 11,00 |
| 231.1050057 | 50,00 | 57,00 | 10,00 | 11,00 |
| 231.1050060 | 50,00 | 60,00 | 10,00 | 11,00 |
| 231.1050065 | 50,00 | 65,00 | 10,00 | 11,00 |
| 231.1055065 | 55,00 | 65,00 | 10,00 | 11,00 |
| 231.1058068 | 58,00 | 68,00 | 10,00 | 11,00 |
| 231.1060070 | 60,00 | 70,00 | 10,00 | 11,00 |
| 231.1060075 | 60,00 | 75,00 | 10,00 | 11,00 |
| 231.1080090 | 80,00 | 90,00 | 10,00 | 11,00 |
| 231.1151231 | 115,00 | 123,00 | 10,90 | 12,00 |
| 231.1601805 | 160,00 | 180,00 | 15,00 | 16,00 |