BECA 655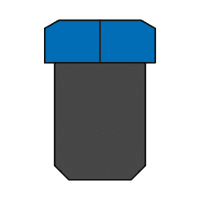 Description
The BECA 655 profile is a double acting composite piston seal composed of a profiled rubber ring and a polyamide or POM friction ring with a step cut.
Advantages
The square ring does not twist
Low friction coefficient
Excellent extrusion resistance
Compatible with hydraulic oils
Technical data
Temperature

-30°C/+100°C

Pressure

50 MPa

Speed

0.5 m/s

Medias

Mineral hydraulic oils
Fire-resistant liquids
Biocompatible fluids
Water
Others (contact our experts)
Applications
Agriculture
Mobile machinery
Hydraulic cylinders
Materials
Friction ring
Polyamide PA6
Polyoxymethylene (POM)
Profiled seal
Dimensions
Installation drawing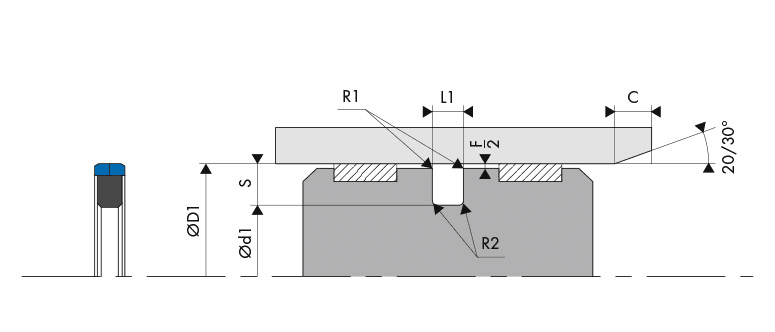 Installation dimensions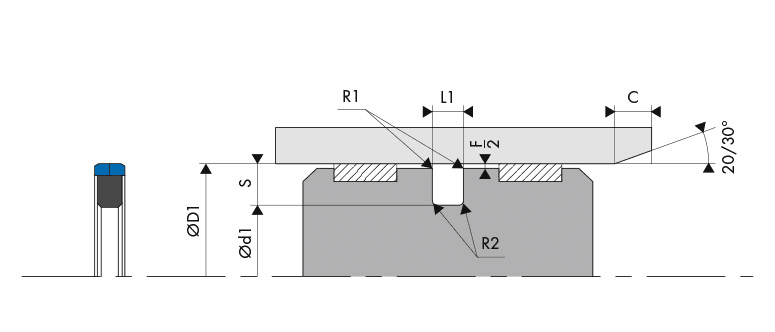 Installation dimensions
| Groove diameter | Groove width | Radial section |
| --- | --- | --- |
| Ød1 h9 | L1 0/+0.20 | S |
| D1 - 11.00 | 4.20 | 5.50 |
| D1 - 15.50 | 6.30 | 7.75 |
| D1 - 21.00 | 8.10 | 10.50 |
For special applications > 40 MPa, we recommend using an H8/f8 tolerance (bore/piston) or selecting other more suitable materials. Please contact our experts.
Materials
Polyamide - PA6G
There are different types of polyamides, more commonly known as "nylons". The most important are: PA 6, PA 66, PA 11 and PA 12. These types of nylons have different physical properties, mainly their composition and the structure of their molecular chains.
The PA6G polyamide is characterised by its stiffness, strong sliding abilities, excellent machinability and excellent resistance to wear and abrasion.
Advantages
Good mechanical resistance, stiffness, hardness and resilience
Good fatigue resistance
Strong shock absorbing potential
Good sliding properties
Excellent wear resistance
Good electrical insulation properties
Good resistance to high-energy radiation
Good machinability
Limits
Dimensional stability is not as good as POM
Temperature range
-30°C / +120°C (very short term peak at 180°C)
Polyoxymethylene - POM
Polyoxymethylene (POM or polyacetal) belongs to the thermoplastics, which have a number of advantages - strong mechanical resistance, good creep strength, high resistance to shocks, particularly at low temperatures, good wear resistance, good sliding coefficient, excellent machinability and good dielectric properties. The low water absorption coefficient, unlike polyamide (PA), also gives this material an excellent dimensional stability.
Chemical resistance

Aliphatic hydrocarbons (propane, butane, petroleum, diesel fuel)
Mineral oils and greases
Fire-resistant fluids (HFA, HFB and HFC)
Water

Compatibility issue
Acids
Temperature range
-50°C/+115°C
NBR
Nitrile rubber (NBR) is the general term for acrylonitrile-butadiene copolymer. The ACN content can vary between 18% and 50%. While the acrylonitrile content is important, the resistance to oil and fuel is more so. Conversely, the elasticity and compression set are not as good. The NBR has good mechanical properties and good wear resistance. However, its resistance to atmospheric agents and the ozone is relatively low.
Chemical resistance
Aliphatic hydrocarbons (propane, butane, petroleum, diesel fuel)
Mineral oils and greases
Fire-resistant fluids (HFA, HFB and HFC)
Diluted acids, low-temperature alkaline and saline solutions
Water (up to +100°C max)
Compatibility issue
Fuels with high aromatic content
Aromatic hydrocarbons (benzene)
Chlorinated hydrocarbons (trichlorethylene)
Polar solvents (ketone, acetone, acetic acid, ethylene-ester)
Strong acids
Glycol-based brake fluids
Atmospheric and ozone agents
Temperature range
-30°C/+100°C
-40°C / +100°C with our low-temperature NBR
Technical data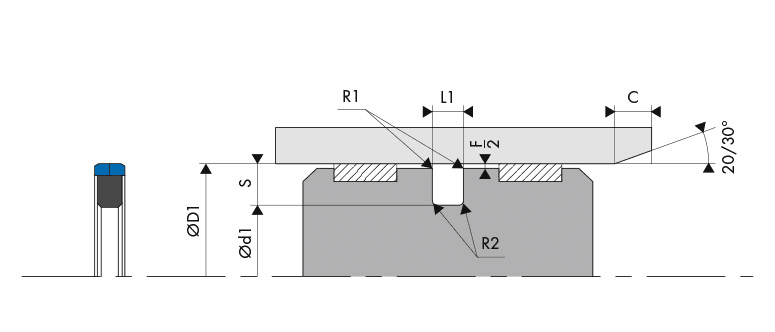 Extrusion gaps
Pressure
MPa
Radial extrusion gap
F/2
20 MPa
0.25
35 MPa
0.20
40 MPa
0.15
50 MPa
0.10
Surface roughness
| Roughness | Dynamic surface area | Static surface area | Groove flanks |
| --- | --- | --- | --- |
| Ra | 0.05 - 0.2 µm | ≤ 1.6 µm | ≤ 3.2 µm |
| Rz | 0.4 - 1.6 µm | ≤ 6.3 µm | ≤ 10.0 µm |
| Rmax | 0.63 - 2.5 µm | ≤ 10.0 µm | ≤ 16.0 µm |
Chamfers and radius
Radial section
S
Radius
R1
Radius
R2
Chamfer
C
5.50
0.30
0.50
3.00
7.75
0.30
0.90
4.00
10.50
0.30
0.90
5.00
19 dimensions found
| | | | |
| --- | --- | --- | --- |
| 655.070HCK6 | 70,00 | 49,00 | 8,10 |
| 655.075HCK6 | 75,00 | 54,00 | 8,10 |
| 655.080HCK6 | 80,00 | 59,00 | 8,10 |
| 655.085HCK6 | 85,00 | 64,00 | 8,10 |
| 655.090HCK6 | 90,00 | 69,00 | 8,10 |
| 655.095HCK6 | 95,00 | 74,00 | 8,10 |
| 655.100HCK6 | 100,00 | 79,00 | 8,10 |
| 655.105HCK6 | 105,00 | 84,00 | 8,10 |
| 655.110HCK6 | 110,00 | 89,00 | 8,10 |
| 655.115HCK6 | 115,00 | 94,00 | 8,10 |
| 655.120HCK6 | 120,00 | 99,00 | 8,10 |
| 655.125HCK6 | 125,00 | 104,00 | 8,10 |
| 655.130HCK6 | 130,00 | 109,00 | 8,10 |
| 655.140HCK6 | 140,00 | 119,00 | 8,10 |
| 655.150HCK6 | 150,00 | 129,00 | 8,10 |
| 655.160HCK6 | 160,00 | 139,00 | 8,10 |
| 655.170HCK6 | 170,00 | 149,00 | 8,10 |
| 655.180HCK6 | 180,00 | 159,00 | 8,10 |
| 655.190HCK6 | 190,00 | 169,00 | 8,10 |