BECA 710 SAE J518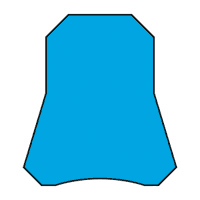 Description
The BECA 710 profile is a polyurethane flange seal suitable for hydraulic fittings SAE J518.
Advantages
Good abrasion resistance
Optimised sealing effect
Very good extrusion resistance
Low compression set
Technical data
Temperature

-30°C / +110°C depending on the material selected

Pressure

40 MPa

Medias

Mineral hydraulic oils
Applications
Flanges
Fittings
Materials
PU 93 Shore A - Blue
PU 96 Shore A - Blue
High temp. PU 96 Shore A - Beige
Dimensions
Installation drawing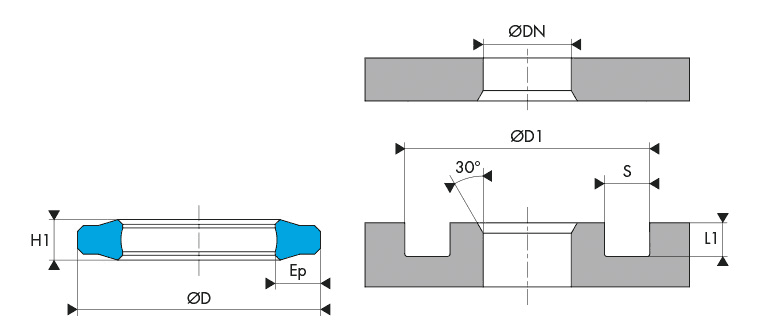 Materials
PU
Polyurethane is a material that has the elastic properties of rubber. The proportion in its composition (diisocyanate, polyol, chain extender) is determined by its properties. This material is characterised by a strong mechanical resistance, good wear resistance, high elastic modulus, good flexibility and a very good ozone and oxidation resistance.
Chemical resistance
Pure aliphatic hydrocarbons (propane, butane)
Mineral oils and greases
Silicone oils and greases
Water up to +50°C
Compatibility issue
Ketones, esters, ethers, alcohols and glycols
Hot water, steam, alkalis, amines and acids
Temperature range
-30°C/+90°C
-30°C / +110°C with our PUHT
Design guidelines

Design data for the housing
Nominal
flange size
Nominal diameter
ØDN
Outside diameter
ØD1 min - max
Axial section
S min - max
Width
L1 min - max
1/2"
13
25.40 - 25.83
3.94 - 4.45
2.79 - 2.92
3/4"
19
31.75 - 31.88
3.94 - 4.45
2.79 - 2.92
1"
25
39.62 - 39.75
3.94 - 4.45
2.79 - 2.92
1 1/4"
32
44.45 - 44.58
3.94 - 4.45
2.79 - 2.92
1 1/2"
38
53.72 - 53.98
3.94 - 4.45
2.79 - 2.92
2"
51
63.25 - 63.50
3.94 - 4.45
2.79 - 2.92
6 dimensions found
| | | | | | |
| --- | --- | --- | --- | --- | --- |
| 710.25634 | 1/2" | 13,00 | 25,60 | 3,40 | 3,80 |
| 710.31834 | 3/4" | 19,00 | 31,80 | 3,40 | 3,80 |
| 710.39834 | 1" | 25,00 | 39,80 | 3,40 | 3,80 |
| 710.44834 | 1 1/4" | 32,00 | 44,80 | 3,40 | 3,80 |
| 710.54334 | 1 1/2" | 38,00 | 54,30 | 3,40 | 3,80 |
| 710.63834 | 2" | 51,00 | 63,80 | 3,40 | 3,80 |