BECA 014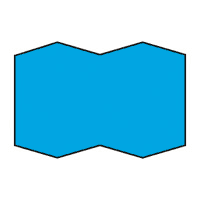 Description
The BECA 014 profile is a polyurethane static seal. It provides an alternative solution to combining an O'Ring (possible twisting during fitting) with a back-up ring (positioning is not always optimal).
Advantages
Excellent resistance to twisting
Easy assembly
Excellent extrusion resistance
Technical data
Temperature

-30°C / +110°C depending on the material selected

Pressure

50 MPa

Speed

0.5 m/s

Medias

Mineral hydraulic oils
Applications
Mobile machinery
Injection presses
Presses
Standard cylinders
Materials
PU 93 Shore A - Blue
PU 96 Shore A - Blue
High temp. PU 96 Shore A - Beige
Dimensions
Installation drawing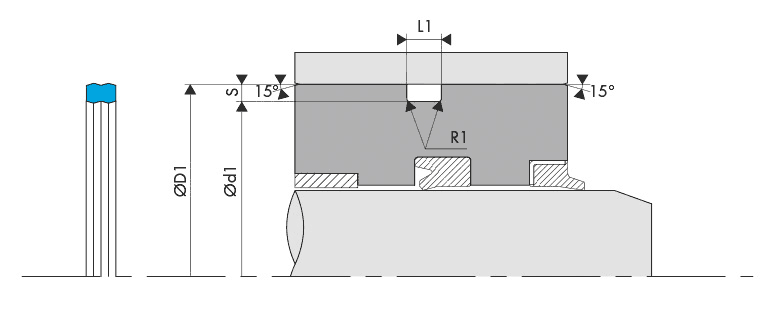 Materials
PU
Polyurethane is a material that has the elastic properties of rubber. The proportion in its composition (diisocyanate, polyol, chain extender) is determined by its properties. This material is characterised by a strong mechanical resistance, good wear resistance, high elastic modulus, good flexibility and a very good ozone and oxidation resistance.
Chemical resistance
Pure aliphatic hydrocarbons (propane, butane)
Mineral oils and greases
Silicone oils and greases
Water up to +50°C
Compatibility issue
Ketones, esters, ethers, alcohols and glycols
Hot water, steam, alkalis, amines and acids
Temperature range
-30°C/+90°C
-30°C / +110°C with our PUHT (short term peak at 150°C)
Technical data

Preferential extrusion gaps
The mechanical tolerances below are recommended for optimal operation:
Bore diameter: H8
Groove diameter: g6
A radial extrusion gap of F/2 at 0.20 mm is acceptable, depending on the shape of the seal and the type of material that makes up the seal.
Surface roughness
| In static radial applications | Ra µm | Rt µm | Rz µm |
| --- | --- | --- | --- |
| Contact surface area | ≤ 1.6 µm | ≤ 10.0 µm | ≤ 6.3 µm |
| Groove diameter surface | ≤ 3.2 µm | ≤ 16.0 µm | ≤ 6.3 µm |
| Groove flanks | ≤ 3.2 µm | ≤ 16.0 µm | ≤ 6.3 µm |
Chamfers and radius
Radial section
S

Chamfer and angle
C x °

≤ 3.00 mm
3 x 15°
> 3.00 mm
5 x 15°
144 dimensions found
| | | | | |
| --- | --- | --- | --- | --- |
| 014.0060042 | 6,00 | 4,60 | 2,40 | 0,30 |
| 014.0100073 | 10,00 | 7,60 | 3,60 | 0,30 |
| 014.0110082 | 11,00 | 8,60 | 2,60 | 0,30 |
| 014.0120093 | 12,00 | 9,60 | 3,60 | 0,30 |
| 014.0130093 | 13,80 | 9,20 | 3,10 | 0,30 |
| 014.0150123 | 15,00 | 12,60 | 3,60 | 0,30 |
| 014.0150133 | 15,50 | 13,10 | 3,60 | 0,30 |
| 014.0160133 | 16,00 | 13,60 | 3,60 | 0,30 |
| 014.0160123 | 16,60 | 12,00 | 3,10 | 0,30 |
| 014.0170142 | 17,00 | 14,60 | 2,60 | 0,30 |
| 014.0170143 | 17,00 | 14,60 | 3,60 | 0,30 |
| 014.0170152 | 17,50 | 15,10 | 2,60 | 0,30 |
| 014.0170153 | 17,50 | 15,10 | 3,60 | 0,30 |
| 014.0180145 | 18,00 | 14,00 | 5,80 | 0,30 |
| 014.0180153 | 18,00 | 15,60 | 3,60 | 0,30 |
| 014.0190154 | 19,00 | 15,60 | 4,40 | 0,30 |
| 014.0190153 | 19,00 | 15,60 | 3,60 | 0,30 |
| 014.0190162 | 19,00 | 16,60 | 2,60 | 0,30 |
| 014.0190163 | 19,00 | 16,60 | 3,60 | 0,30 |
| 014.0200165 | 20,00 | 16,00 | 5,80 | 0,30 |
| 014.0200164 | 20,00 | 16,60 | 4,40 | 0,30 |
| 014.0200163 | 20,00 | 16,60 | 3,60 | 0,30 |
| 014.0200173 | 20,00 | 17,60 | 3,60 | 0,30 |
| 014.0200175 | 20,50 | 17,20 | 5,00 | 0,30 |
| 014.0210174 | 21,00 | 17,60 | 4,40 | 0,30 |
| 014.0210183 | 21,00 | 18,60 | 3,60 | 0,30 |
| 014.0210184 | 21,50 | 18,10 | 4,40 | 0,30 |
| 014.0210192 | 21,50 | 19,10 | 2,60 | 0,30 |
| 014.0220193 | 22,00 | 19,60 | 3,60 | 0,30 |
| 014.0230194 | 23,00 | 19,60 | 4,40 | 0,30 |
| 014.0230203 | 23,00 | 20,60 | 3,60 | 0,30 |
| 014.0240204 | 24,00 | 20,00 | 4,80 | 0,30 |
| 014.0240213 | 24,00 | 21,60 | 3,60 | 0,30 |
| 014.0260224 | 26,00 | 22,00 | 4,40 | 0,30 |
| 014.0260225 | 26,80 | 22,00 | 5,40 | 0,30 |
| 014.0280235 | 28,00 | 23,80 | 5,30 | 0,30 |
| 014.0280253 | 28,60 | 25,60 | 3,60 | 0,30 |
| 014.0300254 | 30,00 | 25,10 | 4,40 | 0,30 |
| 014.0300255 | 30,00 | 25,40 | 5,40 | 0,30 |
| 014.0310265 | 31,00 | 26,40 | 5,00 | 0,30 |
| 014.0320275 | 32,00 | 27,40 | 5,40 | 0,30 |
| 014.0330201 | 33,00 | 20,00 | 15,60 | 0,60 |
| 014.0340285 | 34,00 | 28,40 | 5,30 | 0,30 |
| 014.0340313 | 34,00 | 31,10 | 3,60 | 0,30 |
| 014.0350305 | 35,00 | 30,40 | 5,00 | 0,30 |
| 014.3550305 | 35,50 | 30,90 | 5,00 | 0,30 |
| 014.0360326 | 36,00 | 32,00 | 6,20 | 0,30 |
| 014.0380325 | 38,00 | 32,40 | 5,30 | 0,30 |
| 014.0403525 | 40,00 | 35,20 | 5,40 | 0,30 |
| 014.0403545 | 40,00 | 35,40 | 5,40 | 0,30 |
| 014.0420386 | 42,80 | 38,00 | 6,80 | 0,30 |
| 014.0430376 | 43,40 | 37,80 | 6,20 | 0,30 |
| 014.0450359 | 45,00 | 35,80 | 9,70 | 0,30 |
| 014.0450405 | 45,00 | 40,00 | 5,40 | 0,30 |
| 014.0500409 | 50,00 | 40,80 | 9,70 | 0,60 |
| 014.0500435 | 50,00 | 43,80 | 5,60 | 0,30 |
| 014.0500446 | 50,00 | 44,60 | 6,20 | 0,30 |
| 014.0500455 | 50,00 | 45,40 | 5,40 | 0,30 |
| 014.0500453 | 50,00 | 45,40 | 3,90 | 0,30 |
| 014.0550459 | 55,00 | 45,80 | 9,80 | 0,30 |
| 014.0550496 | 55,00 | 49,60 | 6,20 | 0,30 |
| 014.0550495 | 55,00 | 49,90 | 5,30 | 0,30 |
| 014.0550506 | 55,00 | 50,00 | 6,70 | 0,30 |
| 014.0550513 | 55,00 | 51,00 | 3,60 | 0,30 |
| 014.0570524 | 57,00 | 52,20 | 4,10 | 0,30 |
| 014.0580509 | 58,00 | 50,00 | 9,00 | 0,30 |
| 014.0600509 | 60,00 | 50,80 | 9,70 | 0,60 |
| 014.0600545 | 60,00 | 54,40 | 5,80 | 0,30 |
| 014.0600546 | 60,00 | 54,60 | 6,20 | 0,30 |
| 014.0630539 | 63,00 | 53,80 | 9,70 | 0,30 |
| 014.0630566 | 63,00 | 56,60 | 6,40 | 0,30 |
| 014.0630574 | 63,00 | 57,40 | 4,80 | 0,30 |
| 014.0630576 | 63,00 | 57,60 | 6,20 | 0,30 |
| 014.0630585 | 63,00 | 58,40 | 5,40 | 0,30 |
| 014.0650595 | 65,00 | 59,40 | 5,00 | 0,30 |
| 014.0650596 | 65,00 | 59,60 | 6,20 | 0,30 |
| 014.0650605 | 65,00 | 60,00 | 5,00 | 0,30 |
| 014.0680625 | 68,00 | 62,70 | 5,00 | 0,30 |
| 014.0690653 | 69,60 | 65,00 | 3,90 | 0,30 |
| 014.0700655 | 70,00 | 65,00 | 5,00 | 0,30 |
| 014.0700666 | 70,00 | 66,40 | 6,20 | 0,30 |
| 014.0720665 | 72,00 | 66,40 | 5,00 | 0,30 |
| 014.0730705 | 73,50 | 70,00 | 5,00 | 0,30 |
| 014.0740703 | 74,60 | 70,00 | 3,80 | 0,30 |
| 014.0750659 | 75,00 | 65,80 | 9,70 | 0,60 |
| 014.0750695 | 75,00 | 69,40 | 5,30 | 0,30 |
| 014.0750696 | 75,00 | 69,60 | 6,20 | 0,40 |
| 014.0760724 | 76,60 | 72,00 | 4,80 | 0,30 |
| 014.0770706 | 77,00 | 70,80 | 6,20 | 0,30 |
| 014.0780735 | 78,00 | 73,00 | 5,00 | 0,30 |
| 014.0800709 | 80,00 | 70,80 | 9,00 | 0,60 |
| 014.0807089 | 80,00 | 70,80 | 9,70 | 0,60 |
| 014.0807366 | 80,00 | 73,60 | 6,40 | 0,30 |
| 014.0807386 | 80,00 | 73,80 | 6,90 | 0,30 |
| 014.0800745 | 80,00 | 74,40 | 5,30 | 0,30 |
| 014.0800755 | 80,00 | 75,40 | 5,40 | 0,30 |
| 014.0800763 | 80,00 | 76,00 | 3,60 | 0,30 |
| 014.0850795 | 85,00 | 79,40 | 5,30 | 0,30 |
| 014.0850803 | 85,10 | 80,50 | 3,90 | 0,30 |
| 014.0900819 | 90,00 | 81,40 | 9,00 | 0,30 |