BECA 301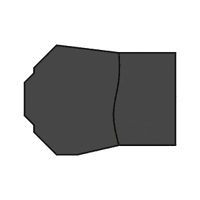 Description
The BECA 301 profile is a single acting compact symmetrical seal composed of a profiled fabric NBR seal. It can be assembled in a groove according to standard ISO 5597.
Advantages
Optimised sealing effect
Good chemical compatibility, depending on the material chosen
Excellent wear resistance
Good extrusion resistance
Technical data
Temperature

-30°C/+110°C

Pressure

25 MPa

Speed

0.5 m/s

Medias

Mineral hydraulic oils
Fire-resistant liquids
Biocompatible fluids
Water
Others (contact our experts)
Applications
Mobile machinery
Material handling - Lifting
Presses
Hydraulic cylinders
Dimensions
Installation drawing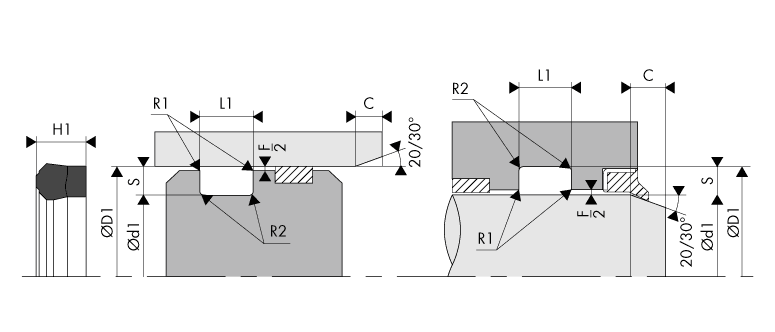 Materials
Fabric NBR 80 Shore A
The cotton fabric is impregnated with a nitrile (NBR) solution to make the hydraulic seals. This material creates a strong wear and degradation resistance. It has a good friction coefficient and is not likely to swell.
Technical data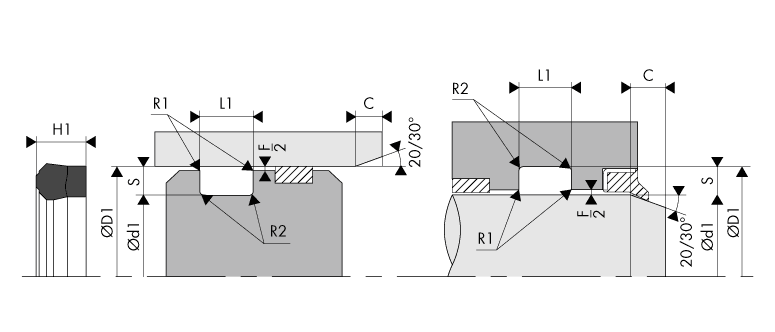 Extrusion gaps
Pressure
MPa
Radial extrusion gap
F/2
15 MPa
0.20
25 MPa
0.10
Surface roughness
| Roughness | Dynamic surface area | Static surface area | Groove flanks |
| --- | --- | --- | --- |
| Ra | 0.1 - 0.4 µm | ≤ 1.6 µm | ≤ 3.2 µm |
| Rz | 0.63 - 2.5 µm | ≤ 6.3 µm | ≤ 10.0 µm |
| Rmax | 1.0 - 4.0 µm | ≤ 10.0 µm | ≤ 16.0 µm |
Chamfers and radius
Radial section
S
Radius
R1
Radius
R2
Chamfer
C
4.00
0.20
0.40
2.00
5.00
0.40
0.70
2.50
6.00
0.70
1.10
3.00
7.50
0.70
1.10
4.00
10.00
1.00
1.10
5.00
82 dimensions found
| | | | | |
| --- | --- | --- | --- | --- |
| 301.1582224 | 15,87 | 22,22 | 4,76 | 5,50 |
| 301.6016024 | 16,00 | 24,00 | 5,70 | 6,30 |
| 301.0172655 | 17,00 | 26,00 | 5,50 | 6,00 |
| 301.0180245 | 18,00 | 24,00 | 4,70 | 5,50 |
| 301.0180266 | 18,00 | 26,00 | 6,00 | 7,00 |
| 301.0202655 | 20,00 | 26,00 | 5,50 | 6,30 |
| 301.6020028 | 20,00 | 28,00 | 5,70 | 6,30 |
| 301.1020028 | 20,00 | 28,00 | 6,50 | 7,50 |
| 301.6022030 | 22,00 | 30,00 | 5,70 | 6,30 |
| 301.7022030 | 22,00 | 30,00 | 6,50 | 7,00 |
| 301.0220347 | 22,00 | 34,00 | 7,00 | 8,00 |
| 301.1370870 | 22,23 | 34,93 | 9,53 | 10,50 |
| 301.6025033 | 25,00 | 33,00 | 5,70 | 6,30 |
| 301.0250335 | 25,00 | 33,00 | 5,70 | 6,30 |
| 301.1025033 | 25,00 | 33,00 | 6,50 | 7,00 |
| 301.0250358 | 25,00 | 35,00 | 9,50 | 10,50 |
| 301.6028036 | 28,00 | 36,00 | 5,70 | 6,30 |
| 301.0280364 | 28,00 | 36,00 | 6,50 | 7,00 |
| 301.1028036 | 28,00 | 36,00 | 6,50 | 7,00 |
| 301.8028038 | 28,00 | 38,00 | 7,50 | 8,00 |
| 301.2863545 | 28,57 | 34,92 | 4,76 | 5,50 |
| 301.1030038 | 30,00 | 38,00 | 5,70 | 6,30 |
| 301.0300407 | 30,00 | 40,00 | 7,30 | 7,50 |
| 301.6032040 | 32,00 | 40,00 | 5,70 | 6,30 |
| 301.1032040 | 32,00 | 40,00 | 6,50 | 7,00 |
| 301.1035043 | 35,00 | 43,00 | 5,70 | 6,30 |
| 301.0350458 | 35,00 | 45,00 | 6,50 | 7,50 |
| 301.1035050 | 35,00 | 50,00 | 10,00 | 11,00 |
| 301.9036048 | 36,00 | 48,00 | 8,20 | 9,00 |
| 301.7038050 | 38,00 | 50,00 | 6,50 | 7,00 |
| 301.9038050 | 38,00 | 50,00 | 8,20 | 9,00 |
| 301.3814766 | 38,10 | 47,62 | 6,35 | 7,00 |
| 301.0381556 | 38,10 | 55,56 | 11,11 | 12,00 |
| 301.6040048 | 40,00 | 48,00 | 5,70 | 6,30 |
| 301.1040048 | 40,00 | 48,00 | 6,50 | 7,00 |
| 301.3400486 | 40,00 | 48,00 | 6,50 | 7,00 |
| 301.0400481 | 40,00 | 48,00 | 10,00 | 11,00 |
| 301.0400482 | 40,00 | 48,00 | 11,50 | 12,50 |
| 301.8040050 | 40,00 | 50,00 | 7,50 | 8,00 |
| 301.2040050 | 40,00 | 50,00 | 8,00 | 9,00 |
| 301.1040050 | 40,00 | 50,00 | 10,40 | 11,00 |
| 301.1040055 | 40,00 | 55,00 | 10,00 | 11,00 |
| 301.0400603 | 40,00 | 60,00 | 13,50 | 14,50 |
| 301.1681181 | 42,85 | 30,15 | 9,52 | 10,50 |
| 301.0440537 | 44,45 | 53,97 | 7,13 | 8,00 |
| 301.0445603 | 44,45 | 60,33 | 10,40 | 11,11 |
| 301.0445617 | 44,45 | 61,72 | 11,00 | 11,60 |
| 301.0450521 | 45,00 | 52,00 | 11,00 | 11,50 |
| 301.2045055 | 45,00 | 55,00 | 7,50 | 8,00 |
| 301.1045055 | 45,00 | 55,00 | 10,40 | 11,00 |
| 301.S475709 | 47,00 | 57,00 | 9,00 | 10,00 |
| 301.8050060 | 50,00 | 60,00 | 7,50 | 8,00 |
| 301.2050060 | 50,00 | 60,00 | 8,00 | 9,00 |
| 301.1050060 | 50,00 | 60,00 | 9,30 | 10,00 |
| 301.0500604 | 50,00 | 60,00 | 14,50 | 15,50 |
| 301.0500708 | 50,00 | 70,00 | 12,00 | 13,00 |
| 301.2055065 | 55,00 | 65,00 | 7,20 | 8,00 |
| 301.1055065 | 55,00 | 65,00 | 10,00 | 11,00 |
| 301.0600683 | 60,00 | 68,00 | 12,50 | 13,50 |
| 301.1060070 | 60,00 | 70,00 | 7,20 | 8,00 |
| 301.1060071 | 60,00 | 71,00 | 9,00 | 10,00 |
| 301.1065075 | 65,00 | 75,00 | 10,00 | 11,00 |
| 301.3065075 | 65,00 | 75,00 | 13,50 | 14,50 |
| 301.0650779 | 65,00 | 77,00 | 9,00 | 9,60 |
| 301.2752310 | 69,85 | 58,72 | 9,52 | 10,50 |
| 301.0700808 | 70,00 | 80,00 | 7,20 | 8,00 |
| 301.0700859 | 70,00 | 82,00 | 9,60 | 10,50 |
| 301.0700903 | 70,00 | 90,00 | 15,00 | 16,00 |
| 301.0750857 | 75,00 | 85,00 | 7,00 | 8,00 |
| 301.0750879 | 75,00 | 87,00 | 9,00 | 9,60 |
| 301.0800902 | 80,00 | 90,00 | 12,00 | 13,00 |
| 301.1080092 | 80,00 | 92,00 | 10,00 | 11,00 |
| 301.1085095 | 85,00 | 95,00 | 8,00 | 9,00 |
| 301.8085095 | 85,00 | 95,00 | 8,00 | 9,00 |
| 301.S851002 | 85,00 | 100,00 | 22,50 | 23,50 |
| 301.1001152 | 100,00 | 115,00 | 11,50 | 12,50 |
| 301.100CLAR | 100,00 | 120,00 | 14,50 | 15,50 |
| 301.1105115 | 105,00 | 115,00 | 10,00 | 11,00 |
| 301.1201405 | 120,00 | 140,00 | 15,00 | 16,00 |
| 301.1301503 | 130,00 | 150,00 | 13,50 | 14,50 |
| 301.1140160 | 140,00 | 160,00 | 12,00 | 13,00 |
| 301.212.6K8 | 212,60 | 231,78 | 14,00 | 15,00 |