BECA 315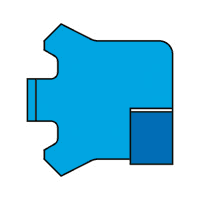 Description
The BECA 315 profile is a single acting buffer rod seal composed of a profiled polyurethane triple lip seal and a POM back-up ring on the back.
Advantages
Primary seal
Low friction coefficient
Excellent abrasion resistance
Excellent extrusion resistance
Technical data
Temperature

-30°C/+110°C

Pressure

40 MPa
Peak at 60 MPa

Speed

0.5 m/s

Medias

Mineral hydraulic oils
Applications
Agriculture
Mobile machinery
Injection presses
Hydraulic cylinders
Materials
Profiled seal
PU 93 Shore A - Blue
PU 96 Shore A - Blue
High temp. PU 96 Shore A - Beige
Back-up ring
Dimensions
Installation drawing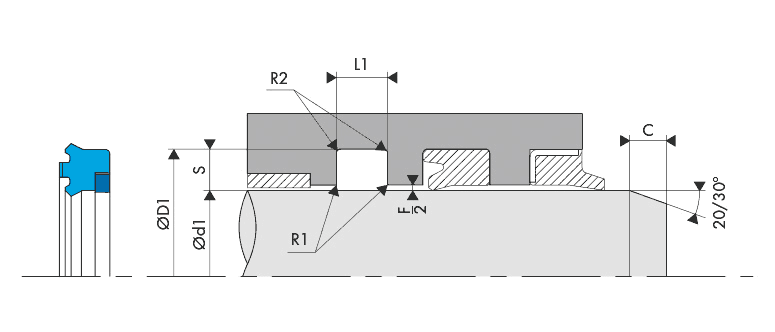 Materials
PU
Polyurethane is a material that has the elastic properties of rubber. The proportion in its composition (diisocyanate, polyol, chain extender) is determined by its properties. This material is characterised by a strong mechanical resistance, good wear resistance, high elastic modulus, good flexibility and a very good ozone and oxidation resistance.
Chemical resistance
Pure aliphatic hydrocarbons (propane, butane)
Mineral oils and greases
Silicone oils and greases
Water up to +50°C
Compatibility issue
Ketones, esters, ethers, alcohols and glycols
Hot water, steam, alkalis, amines and acids
Temperature range
-30°C/+90°C
-30°C / +110°C with our PUHT (short term peak at 150°C)
Polyoxymethylene - POM
Polyoxymethylene (POM or polyacetal) belongs to the thermoplastics, which have a number of advantages - strong mechanical resistance, good creep strength, high resistance to shocks, particularly at low temperatures, good wear resistance, good sliding coefficient, excellent machinability and good dielectric properties. The low water absorption coefficient, unlike polyamide (PA), also gives this material an excellent dimensional stability.
Chemical resistance

Aliphatic hydrocarbons (propane, butane, petroleum, diesel fuel)
Mineral oils and greases
Fire-resistant fluids (HFA, HFB and HFC)
Water

Compatibility issue
Acids
Temperature range
-50°C/+115°C
Technical data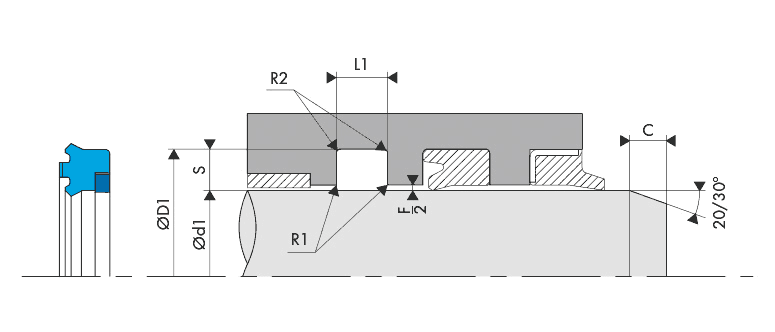 Extrusion gaps
Radial section
S
Radial extrusion gap
F/2
15 MPa
25 MPa
30 MPa
40 MPa
≤ 7.75
0.60
0.50
0.40
0.35
≤ 10.00
0.70
0.60
0.50
0.40
Surface roughness
| Roughness | Dynamic surface area | Static surface area | Groove flanks |
| --- | --- | --- | --- |
| Ra | 0.1 - 0.4 µm | ≤ 1.6 µm | ≤ 3.2 µm |
| Rz | 0.63 - 2.5 µm | ≤ 6.3 µm | ≤ 10.0 µm |
| Rmax | 1.0 - 4.0 µm | ≤ 10.0 µm | ≤ 16.0 µm |
Chamfers and radius
Radial section
S
Radius
R1
Radius
R2
Chamfer
C
7.50 - 7.75
0.80
1.00
4.00
10.00
0.80
1.00
5.00
12 dimensions found
| | | | | |
| --- | --- | --- | --- | --- |
| 315.0560719 | 56,00 | 71,00 | 8,50 | 9,50 |
| 315.0650806 | 65,00 | 80,50 | 6,00 | 6,30 |
| 315.0700852 | 70,00 | 85,00 | 12,50 | 13,50 |
| 315.0700859 | 70,00 | 85,00 | 8,50 | 9,50 |
| 315.0750906 | 75,00 | 90,50 | 6,00 | 6,30 |
| 315.0750909 | 75,00 | 90,00 | 9,50 | 10,50 |
| 315.0800953 | 80,00 | 95,00 | 12,50 | 13,50 |
| 315.0800956 | 80,00 | 95,00 | 6,00 | 6,30 |
| 315.0800959 | 80,00 | 95,00 | 8,50 | 9,50 |
| 315.0901059 | 90,00 | 105,00 | 8,50 | 9,50 |
| 315.0951107 | 95,00 | 110,00 | 6,00 | 7,00 |
| 315.1001201 | 100,00 | 120,00 | 11,50 | 12,50 |