O'Rings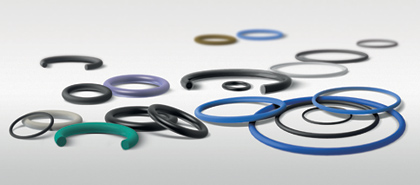 The O'Rings , because of their simple shape and efficiency, have been used for a number of years in diverse industrial applications - valves, industrial engines, medical equipment, agricultural equipment and construction machinery, machine tools, etc. In short, in situations where a compact design is required for a good sealing effect.
These O'Rings are made (among others) from very varied chemical synthetic rubber: NBR, EPDM, HNBR, FKM, VMQ, ACM, AEM, as well as Polyurethane, PTFE, FKM-FEP or VMQ-FEP, which provides a large selection of materials that are chemically compatible with a wide range of products and fluids. The dimensions of the housing are defined by the O'Ring cross-section Ød2.
These O'Rings are extremely easy to use, both for static and dynamic applications, and do not require any maintenance or adjustment. They can be used under pressure and at significant speeds and temperatures by selecting the right quality and by carefully following the installation instructions. The O'Rings are a simple, efficient and economic solution.
The BECA 010 family is long download times due to its rich content in technical data.