BECA 007 Rod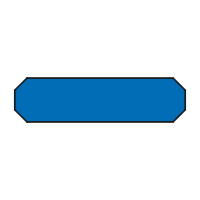 Description
The BECA 007 Rod profile is a machined guide ring or wear ring with a 30° angle cut as standard, made from glass-filled POM. Other types of cuts can be made.
Advantages
Great compression resistance
Great wear resistance
Water absorption limited to 0.2%
Good stiffness
Technical data
Temperature

-50°C / +115°C (+140°C peak)

Speed

1 m/s

Max. compression resistance

170 N/mm²

Radial loads in dynamic applications

40 N/mm² at 25°C
25 N/mm² > 60°C
Applications
Lifting trucks
Construction equipment
Agricultural machinery
Standard cylinders
Dimensions
Installation drawing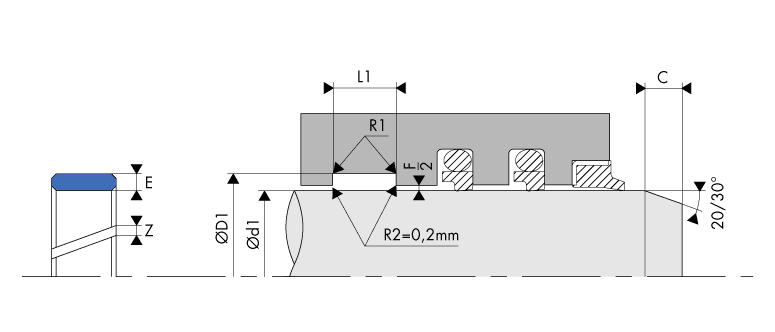 Installation dimensions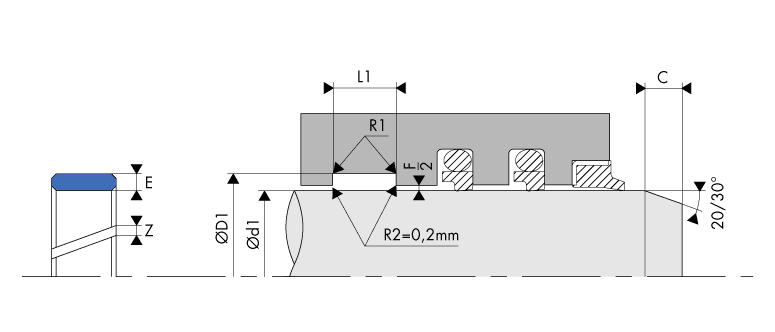 Installation dimensions
ISO 10766
Rod diameter
Groove diameter
Groove width
Seal thickness
Gap
Ød1 f8/h9
ØD1 H8
L1 0/+0.20
E
Z +/-0.50
*
10.0 - 50.0
d1 + 3.10
4.00
1.55
1.00
*
15.0 - 140.0
d1 + 5.00
5.60
2.50
1.25
*
20.0 - 220.0
d1 + 5.00
9.70
2.50
1.25
*
80.0 - 360.0
d1 + 5.00
15.00
2.50
1.25
*
200.0 - 360.0
d1 + 5.00
25.00
2.50
1.25
*
280.0 - 360.0
d1 + 8.00
25.00
4.00
2.00
Other dimensions are possible, not taking ISO 10766 into consideration. Please contact our experts.
Materials
Polyoxymethylene - POM
Polyoxymethylene (POM or polyacetal) belongs to the thermoplastics, which have a number of advantages - strong mechanical resistance, good creep strength, high resistance to shocks, particularly at low temperatures, good wear resistance, good sliding coefficient, excellent machinability and good dielectric properties. The low water absorption coefficient, unlike polyamide (PA), also gives this material an excellent dimensional stability.
Chemical resistance

Aliphatic hydrocarbons (propane, butane, petroleum, diesel fuel)
Mineral oils and greases
Fire-resistant fluids (HFA, HFB and HFC)
Water

Compatibility issue
Acids
Temperature range
-50°C/+115°C
Design guidelines
Guide sizing
The following formulas calculate the height "H" of the rod guide holder while taking account of the gap "Z" necessary at the ends of the ring after fitting. This gap "Z" offsets the thermal expansion under the effects of temperature, and prevents intermediate pressures and drag pressures in the system.
H = (F x f) / (Ød1 x Cr)
where:
H = Min. height of the guide (mm)
F = Max. radial force (N)
f = Safety coefficient (we recommend 2)
Ød1 = Rod diameter (mm)
Cr = Permissible radial load in dynamic applications (N/mm²)
Types of cuts
The wear rings are made with a 30° angle cut as standard. Other types of cuts can be made on request, as shown in the diagram below.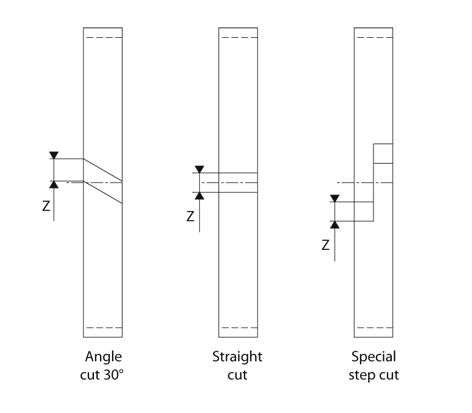 Technical data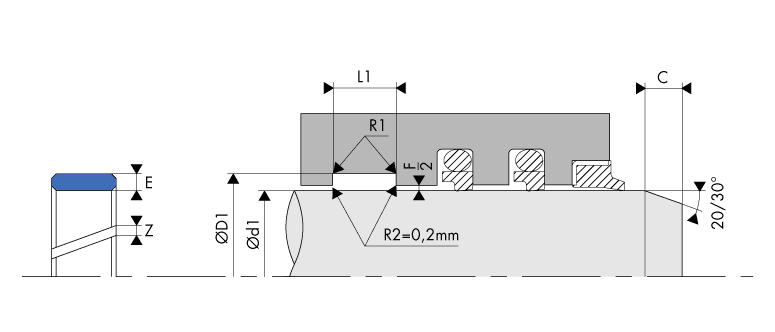 Extrusion gaps
Rod diameter
Ød1
Radial extrusion gap
F/2
8.0 - 20.0
0.20
0.30
21.0 - 100.0
0.25
0.40
101.0 - 250.0
0.30
0.60
251.0 - 300.0
0.40
0.80
301.0 - 500.0
0.40
0.80
Surface roughness
| Roughness | Dynamic surface area | Static surface area | Groove flanks |
| --- | --- | --- | --- |
| Ra | 0.1 - 0.4 µm | ≤ 1.6 µm | ≤ 3.2 µm |
| Rz | 0.63 - 2.5 µm | ≤ 6.3 µm | ≤ 10.0 µm |
| Rmax | 1.0 - 4.0 µm | ≤ 10.0 µm | ≤ 16.0 µm |
Radius
Rod diameter
Ød1
Radius
R1
≤ 250.0
0.20
> 250.0
0.40
188 dimensions found
| | | | | |
| --- | --- | --- | --- | --- |
| 007.0081114 | 8,00 | 11,10 | 4,00 | 1,55 |
| 007.0101314 | 10,00 | 13,10 | 4,00 | 1,55 |
| 007.0121514 | 12,00 | 15,10 | 4,00 | 1,55 |
| 007.0141714 | 14,00 | 17,10 | 4,00 | 1,55 |
| 007.0151814 | 15,00 | 18,10 | 4,00 | 1,55 |
| 007.0161914 | 16,00 | 19,10 | 4,00 | 1,55 |
| 007.0182114 | 18,00 | 21,10 | 4,00 | 1,55 |
| 007.0202314 | 20,00 | 23,10 | 4,00 | 1,55 |
| 007.0222514 | 22,00 | 25,10 | 4,00 | 1,55 |
| 007.0252814 | 25,00 | 28,10 | 4,00 | 1,55 |
| 007.0250305 | 25,00 | 30,00 | 5,60 | 2,50 |
| 007.0273014 | 27,00 | 30,10 | 4,00 | 1,55 |
| 007.0270325 | 27,00 | 32,00 | 5,60 | 2,50 |
| 007.0283114 | 28,00 | 31,10 | 4,00 | 1,55 |
| 007.0280335 | 28,00 | 33,00 | 5,60 | 2,50 |
| 007.0303314 | 30,00 | 33,10 | 4,00 | 1,55 |
| 007.0300355 | 30,00 | 35,00 | 5,60 | 2,50 |
| 007.0300359 | 30,00 | 35,00 | 9,70 | 2,50 |
| 007.0323514 | 32,00 | 35,10 | 4,00 | 1,55 |
| 007.0320375 | 32,00 | 37,00 | 5,60 | 2,50 |
| 007.0320379 | 32,00 | 37,00 | 9,70 | 2,50 |
| 007.0333614 | 33,00 | 36,10 | 4,00 | 1,55 |
| 007.0330385 | 33,00 | 38,00 | 5,60 | 2,50 |
| 007.0330389 | 33,00 | 38,00 | 9,70 | 2,50 |
| 007.0353814 | 35,00 | 38,10 | 4,00 | 1,55 |
| 007.0350405 | 35,00 | 40,00 | 5,60 | 2,50 |
| 007.0350409 | 35,00 | 40,00 | 9,70 | 2,50 |
| 007.0363914 | 36,00 | 39,10 | 4,00 | 1,55 |
| 007.0360415 | 36,00 | 41,00 | 5,60 | 2,50 |
| 007.0360419 | 36,00 | 41,00 | 9,70 | 2,50 |
| 007.0374014 | 37,00 | 40,10 | 4,00 | 1,55 |
| 007.0370425 | 37,00 | 42,00 | 5,60 | 2,50 |
| 007.0370429 | 37,00 | 42,00 | 9,70 | 2,50 |
| 007.0384114 | 38,00 | 41,10 | 4,00 | 1,55 |
| 007.0380435 | 38,00 | 43,00 | 5,60 | 2,50 |
| 007.0380439 | 38,00 | 43,00 | 9,70 | 2,50 |
| 007.0404314 | 40,00 | 43,10 | 4,00 | 1,55 |
| 007.0400455 | 40,00 | 45,00 | 5,60 | 2,50 |
| 007.0400459 | 40,00 | 45,00 | 9,70 | 2,50 |
| 007.0414414 | 41,00 | 44,10 | 4,00 | 1,55 |
| 007.0410465 | 41,00 | 46,00 | 5,60 | 2,50 |
| 007.0410469 | 41,00 | 46,00 | 9,70 | 2,50 |
| 007.0424514 | 42,00 | 45,10 | 4,00 | 1,55 |
| 007.0420475 | 42,00 | 47,00 | 5,60 | 2,50 |
| 007.0420479 | 42,00 | 47,00 | 9,70 | 2,50 |
| 007.0454814 | 45,00 | 48,10 | 4,00 | 1,55 |
| 007.0450505 | 45,00 | 50,00 | 5,60 | 2,50 |
| 007.0450509 | 45,00 | 50,00 | 9,70 | 2,50 |
| 007.0485114 | 48,00 | 51,10 | 4,00 | 1,55 |
| 007.0480535 | 48,00 | 53,00 | 5,60 | 2,50 |
| 007.0480539 | 48,00 | 53,00 | 9,70 | 2,50 |
| 007.0505314 | 50,00 | 53,10 | 4,00 | 1,55 |
| 007.0500555 | 50,00 | 55,00 | 5,60 | 2,50 |
| 007.0500559 | 50,00 | 55,00 | 9,70 | 2,50 |
| 007.0520575 | 52,00 | 57,00 | 5,60 | 2,50 |
| 007.0520579 | 52,00 | 57,00 | 9,70 | 2,50 |
| 007.0550605 | 55,00 | 60,00 | 5,60 | 2,50 |
| 007.0550609 | 55,00 | 60,00 | 9,70 | 2,50 |
| 007.0580635 | 58,00 | 63,00 | 5,60 | 2,50 |
| 007.0580639 | 58,00 | 63,00 | 9,70 | 2,50 |
| 007.0600655 | 60,00 | 65,00 | 5,60 | 2,50 |
| 007.0600659 | 60,00 | 65,00 | 9,70 | 2,50 |
| 007.0610665 | 61,00 | 66,00 | 5,60 | 2,50 |
| 007.0610669 | 61,00 | 66,00 | 9,70 | 2,50 |
| 007.0630685 | 63,00 | 68,00 | 5,60 | 2,50 |
| 007.0630689 | 63,00 | 68,00 | 9,70 | 2,50 |
| 007.0650705 | 65,00 | 70,00 | 5,60 | 2,50 |
| 007.0650709 | 65,00 | 70,00 | 9,70 | 2,50 |
| 007.0680735 | 68,00 | 73,00 | 5,60 | 2,50 |
| 007.0680739 | 68,00 | 73,00 | 9,70 | 2,50 |
| 007.0700755 | 70,00 | 75,00 | 5,60 | 2,50 |
| 007.0700759 | 70,00 | 75,00 | 9,70 | 2,50 |
| 007.0720779 | 72,00 | 77,00 | 9,70 | 2,50 |
| 007.0750809 | 75,00 | 80,00 | 9,70 | 2,50 |
| 007.0780839 | 78,00 | 83,00 | 9,70 | 2,50 |
| 007.0800859 | 80,00 | 85,00 | 9,70 | 2,50 |
| 007.0800851 | 80,00 | 85,00 | 15,00 | 2,50 |
| 007.0850909 | 85,00 | 90,00 | 9,70 | 2,50 |
| 007.0850901 | 85,00 | 90,00 | 15,00 | 2,50 |
| 007.0900959 | 90,00 | 95,00 | 9,70 | 2,50 |
| 007.0900951 | 90,00 | 95,00 | 15,00 | 2,50 |
| 007.0951009 | 95,00 | 100,00 | 9,70 | 2,50 |
| 007.0951001 | 95,00 | 100,00 | 15,00 | 2,50 |
| 007.1001059 | 100,00 | 105,00 | 9,70 | 2,50 |
| 007.1001051 | 100,00 | 105,00 | 15,00 | 2,50 |
| 007.1051109 | 105,00 | 110,00 | 9,70 | 2,50 |
| 007.1051101 | 105,00 | 110,00 | 15,00 | 2,50 |
| 007.1101159 | 110,00 | 115,00 | 9,70 | 2,50 |
| 007.1101151 | 110,00 | 115,00 | 15,00 | 2,50 |
| 007.1151209 | 115,00 | 120,00 | 9,70 | 2,50 |
| 007.1151201 | 115,00 | 120,00 | 15,00 | 2,50 |
| 007.1201259 | 120,00 | 125,00 | 9,70 | 2,50 |
| 007.1201251 | 120,00 | 125,00 | 15,00 | 2,50 |
| 007.1251309 | 125,00 | 130,00 | 9,70 | 2,50 |
| 007.1251301 | 125,00 | 130,00 | 15,00 | 2,50 |
| 007.1301359 | 130,00 | 135,00 | 9,70 | 2,50 |
| 007.1301351 | 130,00 | 135,00 | 15,00 | 2,50 |
| 007.1351409 | 135,00 | 140,00 | 9,70 | 2,50 |
| 007.1351401 | 135,00 | 140,00 | 15,00 | 2,50 |
| 007.1401459 | 140,00 | 145,00 | 9,70 | 2,50 |