BECA 310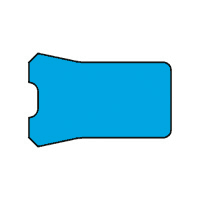 Description
The BECA 310 profile is a U-ring type single acting compact rod/piston seal with symmetrical lips and made of a very dense polyurethane body. It can be assembled in a groove according to standard ISO 5597.
Advantages
Good sealing at both high and low pressures
Excellent abrasion resistance
Technical data
Temperature

-30°C/+110°C

Pressure

40 MPa

Speed

0.5 m/s

Medias

Mineral hydraulic oils
Applications
Mobile machinery
Material handling - Lifting
Presses
Hydraulic cylinders
Materials
PU 93 Shore A - Blue
PU 96 Shore A - Blue
High temp. PU 96 Shore A - Beige
Dimensions
Installation drawing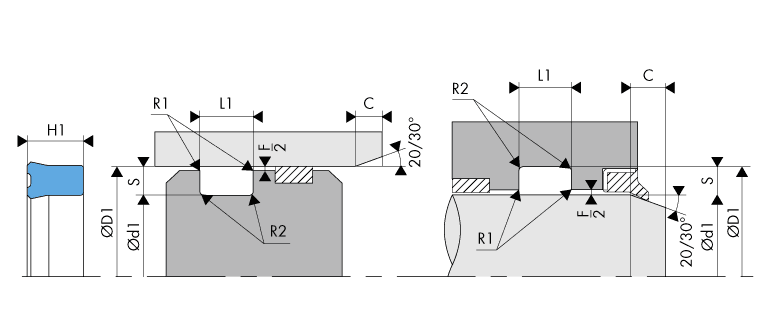 Materials
PU
Polyurethane is a material that has the elastic properties of rubber. The proportion in its composition (diisocyanate, polyol, chain extender) is determined by its properties. This material is characterised by a strong mechanical resistance, good wear resistance, high elastic modulus, good flexibility and a very good ozone and oxidation resistance.
Chemical resistance
Pure aliphatic hydrocarbons (propane, butane)
Mineral oils and greases
Silicone oils and greases
Water up to +50°C
Compatibility issue
Ketones, esters, ethers, alcohols and glycols
Hot water, steam, alkalis, amines and acids
Temperature range
-30°C/+90°C
-30°C / +110°C with our PUHT (short term peak at 150°C)
Technical data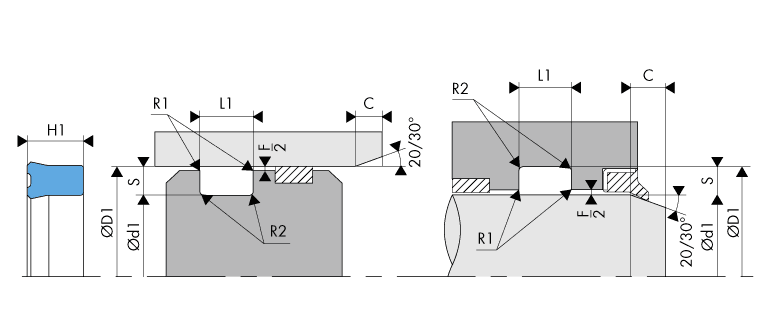 Extrusion gaps
Bore diameter ØD1
Rod diameter Ød1
Radial extrusion gap
F/2
≤ 5 MPa
≤ 10 MPa
≤ 20 MPa
≤ 30 MPa
≤ 40 MPa
≤ 60 mm
0.40
0.30
0.20
0.15
0.10
> 60 mm
0.50
0.40
0.30
0.20
0.15
Surface roughness
| Roughness | Dynamic surface area | Static surface area | Groove flanks |
| --- | --- | --- | --- |
| Ra | 0.1 - 0.4 µm | ≤ 1.6 µm | ≤ 3.2 µm |
| Rz | 0.63 - 2.5 µm | ≤ 6.3 µm | ≤ 10.0 µm |
| Rmax | 1.0 - 4.0 µm | ≤ 10.0 µm | ≤ 16.0 µm |
Chamfers and radius
Radial section
S
Radius
R1
Radius
R2
Chamfer
C
3.00
0.40
0.60
2.50
4.00
0.40
0.60
2.50
5.00
0.40
0.60
2.50
7.50
0.80
1.00
4.00
223 dimensions found
| | | | | |
| --- | --- | --- | --- | --- |
| 310.0060145 | 6,00 | 14,00 | 5,70 | 6,30 |
| 310.0070134 | 7,00 | 13,00 | 4,50 | 5,00 |
| 310.0080164 | 8,00 | 16,00 | 4,50 | 5,00 |
| 310.0080165 | 8,00 | 16,00 | 5,70 | 6,30 |
| 310.0090133 | 9,00 | 13,00 | 3,50 | 4,50 |
| 310.0100176 | 10,00 | 17,00 | 6,00 | 7,00 |
| 310.0100186 | 10,00 | 18,00 | 5,70 | 6,30 |
| 310.0100207 | 10,00 | 20,00 | 7,30 | 8,00 |
| 310.0120205 | 12,00 | 20,00 | 5,70 | 6,30 |
| 310.0120227 | 12,00 | 22,00 | 7,30 | 8,00 |
| 310.0140215 | 14,00 | 21,00 | 5,00 | 5,60 |
| 310.0140225 | 14,00 | 22,00 | 5,70 | 6,30 |
| 310.0140247 | 14,00 | 24,00 | 7,30 | 8,00 |
| 310.5016023 | 16,00 | 23,00 | 5,00 | 5,60 |
| 310.6016024 | 16,00 | 24,00 | 5,70 | 6,30 |
| 310.0160267 | 16,00 | 26,00 | 7,30 | 8,00 |
| 310.5018025 | 18,00 | 25,00 | 5,00 | 5,60 |
| 310.6018026 | 18,00 | 26,00 | 5,70 | 6,30 |
| 310.0180287 | 18,00 | 28,00 | 7,30 | 8,00 |
| 310.0200265 | 20,00 | 26,00 | 5,00 | 5,60 |
| 310.5020027 | 20,00 | 27,00 | 5,00 | 5,60 |
| 310.0200276 | 20,00 | 27,00 | 6,00 | 7,00 |
| 310.6020028 | 20,00 | 28,00 | 5,70 | 6,30 |
| 310.0200286 | 20,00 | 28,00 | 6,00 | 7,00 |
| 310.0200307 | 20,00 | 30,00 | 7,00 | 8,00 |
| 310.0200308 | 20,00 | 30,00 | 7,30 | 8,00 |
| 310.0210307 | 21,70 | 30,00 | 7,00 | 8,00 |
| 310.5022029 | 22,00 | 29,00 | 5,00 | 5,60 |
| 310.6022031 | 22,00 | 30,00 | 5,70 | 6,30 |
| 310.0220306 | 22,00 | 30,00 | 6,00 | 7,00 |
| 310.0220328 | 22,00 | 32,00 | 7,00 | 8,00 |
| 310.0200327 | 22,00 | 32,00 | 7,30 | 8,00 |
| 310.0200309 | 22,00 | 32,00 | 8,00 | 9,00 |
| 310.5025032 | 25,00 | 32,00 | 5,00 | 5,60 |
| 310.6025033 | 25,00 | 33,00 | 5,70 | 6,30 |
| 310.0250336 | 25,00 | 33,00 | 6,00 | 7,00 |
| 310.0250338 | 25,00 | 33,00 | 8,00 | 9,00 |
| 310.0250357 | 25,00 | 35,00 | 7,30 | 8,00 |
| 310.0250358 | 25,00 | 35,00 | 8,00 | 9,00 |
| 310.0270355 | 27,00 | 35,00 | 5,70 | 6,30 |
| 310.0270358 | 27,00 | 35,00 | 8,00 | 9,00 |
| 310.0280364 | 28,00 | 36,00 | 4,50 | 5,00 |
| 310.3028036 | 28,00 | 36,00 | 5,70 | 6,30 |
| 310.0280366 | 28,00 | 36,00 | 6,00 | 7,00 |
| 310.0280368 | 28,00 | 36,00 | 8,00 | 9,00 |
| 310.0280387 | 28,00 | 38,00 | 7,00 | 8,00 |
| 310.0280389 | 28,00 | 38,00 | 8,00 | 9,00 |
| 310.0280431 | 28,00 | 43,00 | 11,50 | 12,50 |
| 310.6030038 | 30,00 | 38,00 | 5,70 | 6,30 |
| 310.0300386 | 30,00 | 38,00 | 6,00 | 7,00 |
| 310.0300387 | 30,00 | 38,00 | 7,00 | 8,00 |
| 310.0300389 | 30,00 | 38,00 | 8,00 | 9,00 |
| 310.0300398 | 30,00 | 39,00 | 8,00 | 9,00 |
| 310.0300431 | 30,00 | 43,00 | 10,00 | 11,00 |
| 310.3174131 | 31,75 | 41,27 | 9,52 | 10,50 |
| 310.0320404 | 32,00 | 40,00 | 4,00 | 4,50 |
| 310.6032040 | 32,00 | 40,00 | 5,70 | 6,30 |
| 310.0320406 | 32,00 | 40,00 | 6,00 | 7,00 |
| 310.0320408 | 32,00 | 40,00 | 8,00 | 9,00 |
| 310.0320416 | 32,00 | 41,00 | 6,00 | 7,00 |
| 310.0320426 | 32,00 | 42,00 | 6,00 | 7,00 |
| 310.0320427 | 32,00 | 42,00 | 7,00 | 8,00 |
| 310.7032042 | 32,00 | 42,00 | 7,30 | 8,00 |
| 310.0320441 | 32,00 | 44,00 | 11,50 | 12,50 |
| 310.0320471 | 32,00 | 47,00 | 11,50 | 12,50 |
| 310.0340474 | 34,00 | 47,00 | 4,00 | 4,50 |
| 310.0350415 | 35,00 | 41,00 | 5,00 | 5,60 |
| 310.6035043 | 35,00 | 43,00 | 5,70 | 6,30 |
| 310.0350436 | 35,00 | 43,00 | 6,00 | 7,00 |
| 310.0350437 | 35,00 | 43,00 | 6,50 | 7,50 |
| 310.0350509 | 35,00 | 50,00 | 9,00 | 10,00 |
| 310.0360444 | 36,00 | 44,00 | 4,50 | 5,00 |
| 310.6036044 | 36,00 | 44,00 | 5,70 | 6,30 |
| 310.0360446 | 36,00 | 44,00 | 6,00 | 7,00 |
| 310.0360467 | 36,00 | 46,00 | 7,30 | 8,00 |
| 310.0360488 | 36,00 | 48,00 | 8,00 | 9,00 |
| 310.0360511 | 36,00 | 51,00 | 11,50 | 12,50 |
| 310.0390478 | 39,00 | 47,00 | 8,00 | 9,00 |
| 310.6040048 | 40,00 | 48,00 | 5,70 | 6,30 |
| 310.0400486 | 40,00 | 48,00 | 6,00 | 7,00 |
| 310.0400488 | 40,00 | 48,00 | 8,00 | 9,00 |
| 310.8040050 | 40,00 | 50,00 | 7,20 | 8,00 |
| 310.0400507 | 40,00 | 50,00 | 7,30 | 8,00 |
| 310.0400501 | 40,00 | 50,00 | 10,00 | 11,00 |
| 310.0400521 | 40,00 | 52,00 | 10,00 | 11,00 |
| 310.0400551 | 40,00 | 55,00 | 11,50 | 12,50 |
| 310.0420505 | 42,00 | 50,00 | 5,70 | 6,30 |
| 310.0420528 | 42,00 | 52,00 | 8,00 | 9,00 |
| 310.6045053 | 45,00 | 53,00 | 5,70 | 6,30 |
| 310.0450537 | 45,00 | 53,00 | 7,20 | 8,00 |
| 310.8045055 | 45,00 | 55,00 | 7,20 | 8,00 |
| 310.0450557 | 45,00 | 55,00 | 7,30 | 8,00 |
| 310.0450558 | 45,00 | 55,00 | 8,00 | 9,00 |
| 310.0450559 | 45,00 | 55,00 | 9,00 | 10,00 |
| 310.0450551 | 45,00 | 55,00 | 10,00 | 11,00 |
| 310.0450601 | 45,00 | 60,00 | 11,50 | 12,50 |
| 310.0450631 | 45,00 | 63,00 | 10,00 | 11,00 |
| 310.0480566 | 48,00 | 56,00 | 6,00 | 7,00 |
| 310.0480606 | 48,00 | 60,00 | 6,00 | 7,00 |
| 310.0490651 | 49,20 | 65,00 | 10,00 | 11,00 |