BECA 080G (Inox)
Self-lubricating composite sliding bearing in STAINLESS STEEL + PTFE. Stainless steel plate as matrix. Sintered porous bronze particles as interlayer. Compound of PTFE without lead (Pb) mixture as surface layer.
Flanged bush, thrust washer (WC1S) and strip are possible.
Copie de BECA 080A (Acier)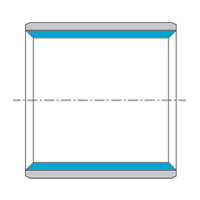 Description
The BECA 150 - 152 - 154 profiles are single acting composite rod seals composed of a filled PTFE friction ring and pre-tightened rubber O'Ring. They can be assembled in grooves according to standard ISO 7425/2. Option of connecting the seal to a back-up ring.
Advantages
Optimal sealing in static and dynamic applications
Low friction coefficient; no stick-slip effect
Excellent abrasion and extrusion resistance
Wide temperature range and excellent chemical resistance, depending on the material selected for the O'Ring
Applications
Mobile machinery
Injection presses
Machine tools
Presses
Standard cylinders
Dimensions
Installation drawing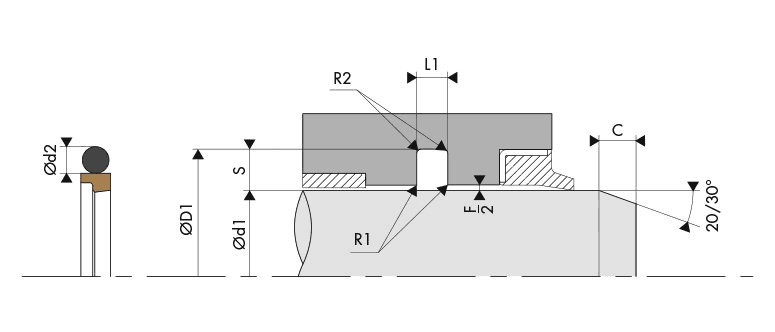 Technical data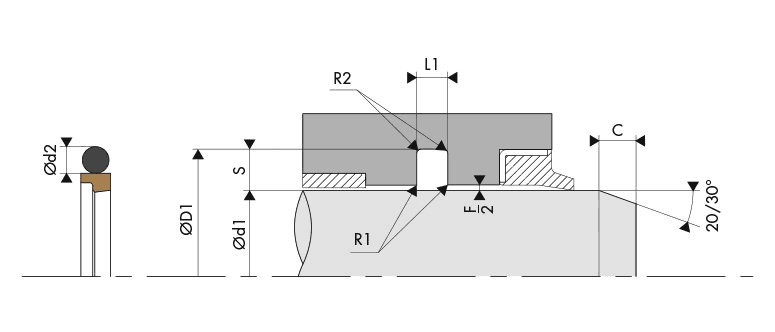 Extrusion gaps
Radial section
S
Radial extrusion gap
F/2
10 MPa
20 MPa
40 MPa
2.45
0.30
0.20
0.15
3.65
0.40
0.25
0.15
5.35
0.50
0.30
0.20
7.55
0.70
0.40
0.25
10.25
0.80
0.60
0.35
12.00
0.90
0.70
0.40
13.65
1.00
0.80
0.50
19.00
1.20
0.90
0.60
Surface roughness
| Roughness | Dynamic surface area | Static surface area | Groove flanks |
| --- | --- | --- | --- |
| Ra | 0.05 - 0.2 µm | ≤ 1.6 µm | ≤ 3.2 µm |
| Rz | 0.40 - 1.6 µm | ≤ 6.3 µm | ≤ 10.0 µm |
| Rmax | 0.63 - 2.5 µm | ≤ 10.0 µm | ≤ 16.0 µm |
Chamfers and radius
Radial section
S
Radius
R1
Radius
R2
Chamfer
C
2.45
0.30
0.40
3.00
3.65
0.30
0.60
3.00
5.35
0.30
1.00
3.00
7.55
0.30
1.30
5.00
10.25
0.30
1.80
6.00
12.00
0.30
1.80
8.00
13.65
0.30
2.50
10.00
19.00
0.30
3.00
12.00
218 dimensions found
080.002003G
080.002005G
080.003003G
080.003004G
080.003005G
080.003006G
080.004003G
080.004004G
080.004006G
080.004010G
080.005005G
080.005008G
080.005010G
080.006004G
080.006006G
080.006008G
080.006010G
080.007010G
080.008008G
080.008010G
080.008012G
080.008015G
080.008006G
080.010008G
080.010010G
080.010012G
080.010015G
080.010020G
080.012006G
080.012008G
080.012010G
080.012012G
080.012015G
080.012020G
080.012025G
080.013010G
080.013020G
080.014010G
080.014012G
080.014015G
080.014020G
080.014025G
080.015010G
080.015012G
080.015015G
080.015020G
080.015025G
080.016010G
080.016012G
080.016015G
080.016020G
080.016025G
080.017010G
080.017012G
080.017020G
080.018010G
080.018012G
080.018015G
080.018020G
080.018025G
080.020010G
080.020012G
080.020015G
080.020020G
080.020025G
080.020030G
080.022010G
080.022012G
080.022015G
080.022020G
080.022025G
080.022030G
080.024015G
080.024020G
080.024025G
080.024030G
080.024010G
080.024012G
080.025015G
080.025020G
080.025025G
080.025030G
080.025040G
080.025050G
080.028015G
080.028020G
080.028025G
080.028030G
080.028040G
080.030012G
080.030015G
080.030020G
080.030025G
080.030030G
080.030040G
080.032020G
080.032030G
080.032040G
080.035012G
080.035015G