BECA 580 - 581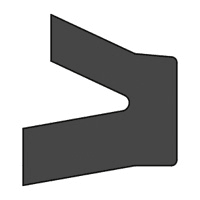 Description
The BECA 580 - 581 profiles are U-ring type piston seals with asymmetrical rubber lips.
Advantages
Reliable sealing for &quotdry air&quot pneumatic applications when mineral oils or greases may be present
Excellent wear resistance
Very good sealing
Closed groove assembly
Technical data
Temperature

-30°C/+150°C

Pressure

1.6 MPa

Speed

1 m/s

Medias

Lubricated air
Oil-free air
Non-aggressive gases
Applications
Shock absorbers
Distributor
Standard cylinders
Materials
NBR 75 Shore A
NBR 80 Shore A
FKM 80 Shore A
Dimensions
Installation drawing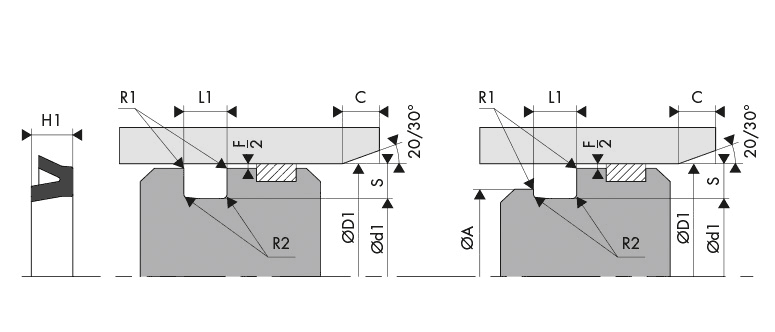 Materials
NBR
Nitrile rubber (NBR) is the general term for acrylonitrile-butadiene copolymer. The ACN content can vary between 18% and 50%. While the acrylonitrile content is important, the resistance to oil and fuel is more so. Conversely, the elasticity and compression set are not as good. The NBR has good mechanical properties and good wear resistance. However, its resistance to atmospheric agents and the ozone is relatively low.
Chemical resistance
Aliphatic hydrocarbons (propane, butane, petroleum, diesel fuel)
Mineral oils and greases
Fire-resistant fluids (HFA, HFB and HFC)
Diluted acids, low-temperature alkaline and saline solutions
Water (up to +100°C max)
Compatibility issue
Fuels with high aromatic content
Aromatic hydrocarbons (benzene)
Chlorinated hydrocarbons (trichlorethylene)
Polar solvents (ketone, acetone, acetic acid, ethylene-ester)
Strong acids
Glycol-based brake fluids
Atmospheric and ozone agents
Temperature range
-30°C/+100°C
FKM
Depending on their structure and fluorine content, the chemical resistance and resistance to the cold in fluororubbers can vary. This FKM-based rubber is very often used for high-temperature hydraulics and pneumatics, for industrial valves, injection/fuel systems, motor seals and high-vacuum systems.
Chemical resistance
Mineral oils and greases, ASTM n°1, IRM 902 and IRM 903 oils.
Fire-resistant liquids (HFD)
Silicone oils and greases
Mineral and vegetable oils and greases
Aliphatic hydrocarbons (propane, butane, petroleum)
Aromatic hydrocarbons (benzene, toluene)
Chlorinated hydrocarbons (trichlorethylene)
Fuel (including high alcohol content)
Atmospheric and ozone agents
Compatibility issue
Glycol-based brake fluids
Ammonia gas
Organic acids with a low molecular weight (formic and acetic acids)
Temperature range
-20°C/+200°C
Technical data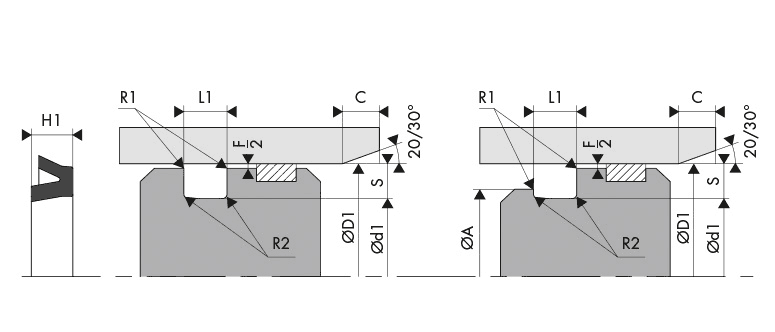 Extrusion gaps
Pressure
MPa
Radial extrusion gap
F/2
1.0 MPa
0.25
1.5 MPa
0.20
6.5 MPa
0.10
8.0 MPa
0.05
Surface roughness
| Roughness | Dynamic surface area | Static surface area | Groove flanks |
| --- | --- | --- | --- |
| Ra | 0.1 - 0.4 µm | ≤ 1.6 µm | ≤ 3.2 µm |
| Rz | 0.63 - 2.5 µm | ≤ 6.3 µm | ≤ 10.0 µm |
| Rmax | 1.0 - 4.0 µm | ≤ 10.0 µm | ≤ 16.0 µm |
Chamfers and radius
Radial section


S

Radius


R1

Radius




R2

Chamfer
C
3.00
0.30
0.50
2.00
4.00

0.30

0.50

2.00
5.00

0.40

0.60

2.50
6.00

0.50

0.70

3.00
7.50

0.80

1.00

4.00
10.00
0.80

1.00

5.00
175 dimensions found
| | | | | |
| --- | --- | --- | --- | --- |
| 580.1002006 | 6,00 | 2,00 | 2,80 | 3,50 |
| 580.1004008 | 8,00 | 4,00 | 2,80 | 3,50 |
| 580.009SPK8 | 9,00 | 3,00 | 6,20 | 6,90 |
| 580.1009003 | 9,50 | 3,17 | 3,96 | 5,50 |
| 580.1011004 | 11,10 | 4,76 | 3,96 | 5,50 |
| 580.1012006 | 12,00 | 6,00 | 4,00 | 5,50 |
| 580.1013006 | 13,00 | 6,70 | 4,76 | 6,30 |
| 580.1014007 | 14,00 | 7,70 | 4,76 | 6,30 |
| 580.1016008 | 16,00 | 8,10 | 5,55 | 7,00 |
| 580.1016010 | 16,00 | 10,00 | 4,00 | 5,50 |
| 580.1017012 | 17,50 | 12,60 | 3,17 | 5,00 |
| 580.1431893 | 18,90 | 14,30 | 3,50 | 5,00 |
| 580.1019012 | 19,00 | 12,70 | 3,17 | 5,00 |
| 580.1019009 | 19,05 | 9,52 | 6,35 | 7,14 |
| 580.0200107 | 20,00 | 10,00 | 7,00 | 8,50 |
| 580.1020012 | 20,00 | 12,00 | 5,50 | 7,00 |
| 580.1020014 | 20,00 | 14,00 | 4,00 | 5,50 |
| 580.1020011 | 20,62 | 11,10 | 6,35 | 7,14 |
| 580.1021014 | 21,00 | 14,70 | 6,35 | 8,00 |
| 580.1022012 | 22,00 | 12,50 | 6,35 | 8,00 |
| 580.FJ02214 | 22,00 | 14,00 | 6,00 | 7,00 |
| 580.1024014 | 24,00 | 14,50 | 6,35 | 8,00 |
| 580.1017024 | 24,70 | 17,00 | 5,00 | 5,50 |
| 580.0250174 | 25,00 | 17,00 | 4,50 | 4,80 |
| 580.1025017 | 25,00 | 17,00 | 5,50 | 7,00 |
| 580.1025018 | 25,00 | 18,00 | 4,00 | 5,50 |
| 580.1026016 | 26,00 | 16,50 | 6,35 | 8,00 |
| 580.1027017 | 27,00 | 17,50 | 6,35 | 8,00 |
| 580.1028015 | 28,57 | 15,87 | 7,92 | 9,52 |
| 580.1029019 | 29,00 | 19,05 | 6,35 | 8,00 |
| 580.1030020 | 30,00 | 20,50 | 6,20 | 8,00 |
| 580.4030024 | 30,00 | 24,00 | 4,00 | 5,00 |
| 580.1030017 | 30,15 | 17,45 | 7,92 | 9,52 |
| 580.1031019 | 31,75 | 19,05 | 7,92 | 9,52 |
| 580.1032019 | 32,00 | 19,30 | 6,35 | 8,00 |
| 580.0320229 | 32,00 | 22,20 | 9,00 | 9,40 |
| 580.1032024 | 32,00 | 24,00 | 5,50 | 7,00 |
| 580.1033020 | 33,32 | 20,62 | 7,92 | 9,52 |
| 580.1034015 | 34,00 | 15,00 | 9,52 | 11,00 |
| 580.1025034 | 34,00 | 25,00 | 8,20 | 8,70 |
| 580.1034022 | 34,92 | 22,22 | 7,92 | 9,52 |
| 580.1035022 | 35,00 | 22,30 | 6,35 | 8,00 |
| 580.1036023 | 36,50 | 23,80 | 7,92 | 9,52 |
| 580.1037026 | 37,00 | 26,00 | 6,35 | 8,00 |
| 580.1038030 | 38,00 | 30,00 | 6,35 | 8,00 |
| 580.1038025 | 38,10 | 25,40 | 7,92 | 9,52 |
| 580.1040027 | 40,00 | 27,30 | 6,35 | 8,00 |
| 580.1040030 | 40,00 | 30,00 | 7,00 | 8,50 |
| 580.FJ04030 | 40,00 | 30,00 | 7,50 | 8,50 |
| 580.1041025 | 41,27 | 25,40 | 9,52 | 11,10 |
| 580.1042030 | 42,00 | 30,90 | 6,35 | 8,00 |
| 580.1043030 | 43,00 | 30,30 | 9,52 | 11,00 |
| 580.1044028 | 44,45 | 28,57 | 9,52 | 11,10 |
| 580.1045035 | 45,00 | 35,50 | 7,00 | 8,50 |
| 580.1046028 | 46,00 | 28,20 | 10,20 | 12,00 |
| 580.1047031 | 47,62 | 31,75 | 9,52 | 11,10 |
| 580.1048032 | 48,00 | 32,10 | 7,93 | 9,50 |
| 580.1049035 | 49,00 | 35,00 | 9,52 | 11,00 |
| 580.6050040 | 50,00 | 40,00 | 6,00 | 7,00 |
| 580.1050040 | 50,00 | 40,00 | 7,00 | 8,50 |
| 580.FJ05040 | 50,00 | 40,00 | 7,50 | 8,50 |
| 580.1050034 | 50,80 | 34,92 | 9,52 | 11,10 |
| 580.1051041 | 51,00 | 41,50 | 7,14 | 9,00 |
| 580.1053038 | 53,97 | 38,10 | 9,52 | 11,11 |
| 580.1054041 | 54,00 | 41,30 | 9,52 | 11,00 |
| 580.1055045 | 55,00 | 45,00 | 7,00 | 8,50 |
| 580.1057044 | 57,00 | 44,30 | 6,35 | 8,00 |
| 580.1057041 | 57,15 | 41,27 | 9,52 | 11,10 |
| 580.1060050 | 60,00 | 50,00 | 7,00 | 8,50 |
| 580.1060044 | 60,32 | 44,45 | 9,52 | 11,10 |
| 580.1061048 | 61,00 | 48,30 | 6,35 | 8,00 |
| 580.FJ06353 | 63,00 | 53,00 | 7,00 | 7,50 |
| 580.0630478 | 63,50 | 47,62 | 7,93 | 9,52 |
| 580.1063047 | 63,50 | 47,62 | 9,52 | 11,10 |
| 580.1064046 | 64,00 | 46,30 | 8,85 | 10,50 |
| 580.1065055 | 65,00 | 55,00 | 7,00 | 8,00 |
| 580.1066050 | 66,67 | 50,80 | 9,52 | 11,10 |
| 580.1067051 | 67,00 | 51,10 | 8,85 | 10,50 |
| 580.1069050 | 69,85 | 50,80 | 12,70 | 14,30 |
| 580.1070054 | 70,00 | 54,10 | 7,93 | 9,50 |
| 580.1070058 | 70,00 | 58,00 | 8,50 | 10,00 |
| 580.1073063 | 73,00 | 63,50 | 5,55 | 7,00 |
| 580.1073053 | 73,02 | 53,97 | 12,70 | 14,30 |
| 580.1075063 | 75,00 | 63,00 | 8,50 | 10,00 |
| 580.1076057 | 76,00 | 57,90 | 8,73 | 10,50 |
| 580.2076057 | 76,20 | 57,15 | 12,70 | 14,30 |
| 580.1079060 | 79,37 | 60,32 | 12,70 | 14,30 |
| 580.1080067 | 80,00 | 67,30 | 6,35 | 8,00 |
| 580.1080068 | 80,00 | 68,00 | 8,50 | 10,00 |
| 580.1082063 | 82,55 | 63,50 | 12,70 | 14,30 |
| 580.1083071 | 83,00 | 71,90 | 7,10 | 8,50 |
| 580.1085073 | 85,00 | 73,00 | 8,50 | 10,00 |
| 580.1086073 | 86,00 | 73,30 | 9,52 | 11,00 |
| 580.1088069 | 88,90 | 69,85 | 12,70 | 14,30 |
| 580.1089076 | 89,00 | 76,30 | 6,35 | 8,00 |
| 580.2090078 | 90,00 | 78,00 | 6,50 | 7,00 |
| 580.1090078 | 90,00 | 78,00 | 8,50 | 10,00 |
| 580.1092076 | 92,00 | 76,10 | 9,52 | 11,00 |
| 580.1095076 | 95,00 | 76,70 | 7,40 | 9,00 |
| 580.2095076 | 95,25 | 76,20 | 12,70 | 14,30 |