BECA 811

Description
The BECA 811 profile is a premium stainless steel sleeve with a hard chrome treatment.
Advantages
Good corrosion resistance
Good chemical inertia
Extremely thin, no need to modify the dimensions of the shaft seal
Easy to fit
Technical data
Surface roughness

Ra = 0.20 - 0.50 µm
Applications
Hubs
Pinions
Differentials
Gear boxes
Crankshafts
Materials
Material
Stainless steel - AISI 304
Coating
Hardness
800 - 1100 HV (65 - 72 HRC)
Thickness
Dimensions
Installation drawing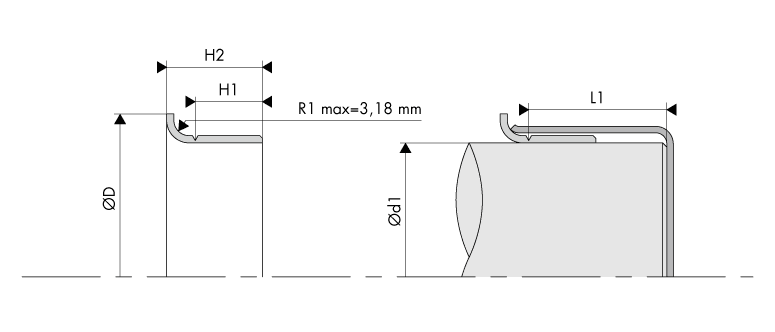 Assembly recommendations
Please refer to the instructions below to correctly fit the sleeves:
Clean the soiled areas of the shaft at the point of contact with the sealing lip of the ring. File down all burrs or rough areas to ensure that the sleeve does not prematurely deteriorate when fitted in a groove or any other part.
Using a calliper, measure the diameter of the shaft in 3 different positions and check that the average over these 3 measurements indicates a value that complies with the recommended dimensional range. If that is the case, the sleeve will have a sufficiently tight fit on the shaft to prevent any possible sliding.
Determine and mark where the sleeve must be positioned to cover the worn area, up to the end of the shaft.
The shallow wear grooves do not need to be filled. It is, however, possible to apply a sealing product to the inside diameter of the sleeve. Clean off any surplus product.
Deeper grooves can be filled with a metal-epoxy powder. Install the sleeve before the product hardens. Remove the surplus product.
When mounting the sleeve, the mechanical body must be shut down.
If the collar must be removed after installation, cut before installing part of the thinnest area using the outside diameter of the sleeve.
Position the sleeve in the mounting tool; it must be inserted into the shaft in its entirety. Use a mallet to tap on its centre, until the sleeve covers the worn shaft. Ensure that the mounting tool is dimensionally compatible, so as to insert the sleeve without distorting it.
Ensure that the outside of the sleeve has not been damaged during fitting. Its surface roughness and its cleanliness are two elements that determine the correct operation of the seal.
The length of the sleeve must not exceed the full length of the shaft, excluding the chamfer.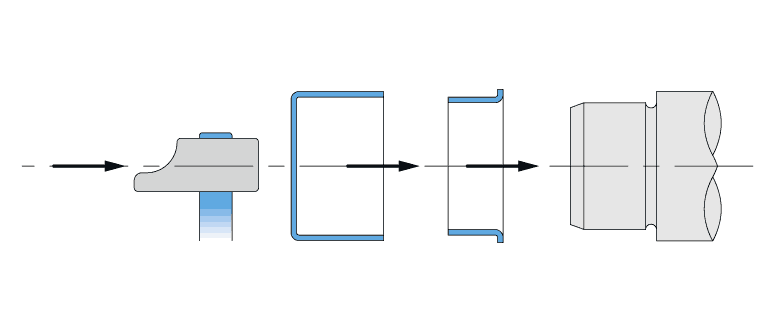 266 dimensions found
| | | | | | | | |
| --- | --- | --- | --- | --- | --- | --- | --- |
| 811.0119905 | 11,99 | 12,07 | 11,99 | 15,49 | 5,99 | 8,41 | 47,63 |
| 811.0127006 | 12,65 | 12,75 | 12,70 | 15,49 | 6,35 | 8,74 | 50,80 |
| 811.0140006 | 13,89 | 14,00 | 14,00 | 19,05 | 6,35 | 9,93 | 46,51 |
| 811.0143006 | 14,22 | 14,38 | 14,30 | 19,05 | 6,35 | 9,93 | 46,51 |
| 811.0150105 | 14,96 | 15,06 | 15,01 | 19,05 | 5,00 | 8,99 | 47,29 |
| 811.0158807 | 15,82 | 15,93 | 15,88 | 19,05 | 7,95 | 10,31 | 50,80 |
| 811.0160007 | 15,90 | 16,00 | 16,00 | 18,24 | 7,95 | 11,13 | 50,80 |
| 811.0169908 | 16,94 | 17,04 | 16,99 | 22,23 | 8,00 | 11,00 | 50,80 |
| 811.0173707 | 17,32 | 17,42 | 17,37 | 22,86 | 7,95 | 11,13 | 50,80 |
| 811.0180108 | 17,88 | 18,01 | 18,01 | 24,43 | 8,00 | 11,00 | 46,00 |
| 811.0190507 | 19,00 | 19,10 | 19,05 | 24,00 | 7,95 | 11,13 | 50,80 |
| 811.0193007 | 19,28 | 19,33 | 19,30 | 23,83 | 7,95 | 11,13 | 50,80 |
| 811.0198407 | 19,81 | 19,91 | 19,84 | 23,75 | 7,95 | 11,13 | 50,80 |
| 811.0199908 | 19,94 | 20,04 | 19,99 | 23,62 | 8,00 | 11,00 | 50,80 |
| 811.0206509 | 20,62 | 20,70 | 20,65 | 30,18 | 9,53 | 14,30 | 76,20 |
| 811.0218206 | 21,77 | 21,87 | 21,82 | 29,34 | 6,35 | 9,53 | 50,80 |
| 811.0220006 | 21,87 | 22,00 | 22,00 | 30,18 | 6,58 | 9,12 | 47,14 |
| 811.0220008 | 21,87 | 22,00 | 22,00 | 30,18 | 8,00 | 11,99 | 46,02 |
| 811.0222307 | 22,17 | 22,28 | 22,23 | 27,79 | 7,95 | 11,13 | 50,80 |
| 811.0231107 | 23,06 | 23,16 | 23,11 | 30,94 | 7,95 | 11,13 | 46,91 |
| 811.0240007 | 23,88 | 24,00 | 24,00 | 28,70 | 7,95 | 11,13 | 50,80 |
| 811.0246107 | 24,54 | 24,64 | 24,61 | 28,70 | 7,95 | 11,13 | 50,80 |
| 811.0246115 | 24,54 | 24,64 | 24,61 | 28,70 | 15,88 | 18,26 | 50,80 |
| 811.0249907 | 24,94 | 25,04 | 24,99 | 33,02 | 7,95 | 11,00 | 50,80 |
| 811.0254007 | 25,35 | 25,45 | 25,40 | 30,96 | 7,95 | 11,13 | 50,80 |
| 811.0260108 | 25,88 | 26,01 | 26,01 | 33,35 | 8,00 | 11,99 | 46,05 |
| 811.0270007 | 26,92 | 27,03 | 27,00 | 33,53 | 7,95 | 11,13 | 46,81 |
| 811.0276607 | 27,61 | 27,71 | 27,66 | 35,71 | 7,95 | 11,13 | 15,88 |
| 811.0279909 | 27,94 | 28,04 | 27,99 | 34,93 | 9,53 | 12,70 | 46,81 |
| 811.0285807 | 28,52 | 28,63 | 28,58 | 38,10 | 7,95 | 11,13 | 17,48 |
| 811.0285809 | 28,52 | 28,63 | 28,58 | 38,10 | 9,53 | 12,70 | 17,48 |
| 811.0293609 | 29,31 | 29,41 | 29,36 | 34,29 | 9,53 | 12,70 | 17,48 |
| 811.0298507 | 29,79 | 29,92 | 29,85 | 35,56 | 7,95 | 11,13 | 17,48 |
| 811.0300008 | 29,95 | 30,07 | 30,00 | 35,56 | 8,00 | 11,00 | 17,48 |
| 811.0301807 | 30,10 | 30,23 | 30,18 | 35,56 | 7,95 | 11,13 | 17,48 |
| 811.0309607 | 30,89 | 31,04 | 30,96 | 39,70 | 7,95 | 11,00 | 15,88 |
| 811.0315008 | 31,42 | 31,57 | 31,50 | 39,12 | 8,00 | 11,13 | 17,48 |
| 811.0317507 | 31,67 | 31,83 | 31,75 | 38,10 | 7,95 | 11,13 | 17,48 |
| 811.0320008 | 31,93 | 32,08 | 32,00 | 38,10 | 8,00 | 11,13 | 17,48 |
| 811.0329915 | 32,94 | 33,05 | 32,99 | 40,49 | 15,01 | 18,01 | 25,40 |
| 811.0333512 | 33,27 | 33,43 | 33,35 | 40,49 | 12,70 | 15,88 | 20,65 |
| 811.0333506 | 33,22 | 33,38 | 33,35 | 40,64 | 6,35 | 9,53 | 20,65 |
| 811.0340112 | 33,86 | 34,01 | 34,01 | 41,28 | 12,70 | 15,88 | 20,65 |
| 811.0349307 | 34,82 | 34,98 | 34,93 | 41,61 | 7,95 | 11,13 | 20,65 |
| 811.0349312 | 34,82 | 34,98 | 34,93 | 41,61 | 12,70 | 15,88 | 20,65 |
| 811.0349313 | 34,93 | 35,08 | 34,93 | 41,61 | 13,00 | 16,00 | 20,65 |
| 811.0359913 | 35,84 | 35,99 | 35,99 | 45,24 | 13,00 | 16,99 | 24,99 |
| 811.0365309 | 36,45 | 36,60 | 36,53 | 45,24 | 9,53 | 12,70 | 25,81 |
| 811.0365314 | 36,37 | 36,53 | 36,53 | 45,24 | 14,30 | 17,48 | 25,81 |
| 811.0380013 | 37,85 | 38,00 | 38,00 | 45,24 | 13,00 | 16,99 | 24,99 |
| 811.0381009 | 38,02 | 38,18 | 38,10 | 45,24 | 9,53 | 12,70 | 25,81 |
| 811.0381014 | 38,02 | 38,18 | 38,10 | 45,24 | 14,30 | 17,48 | 25,81 |
| 811.0386811 | 38,61 | 38,76 | 38,68 | 47,22 | 11,13 | 14,30 | 25,81 |
| 811.0394211 | 39,34 | 39,50 | 39,42 | 47,22 | 11,13 | 14,30 | 25,81 |
| 811.0396714 | 39,60 | 39,75 | 39,67 | 47,22 | 14,30 | 17,48 | 25,81 |
| 811.0398515 | 39,78 | 39,93 | 39,85 | 47,22 | 15,88 | 19,05 | 25,81 |
| 811.0400109 | 39,85 | 40,01 | 40,01 | 46,99 | 9,91 | 12,93 | 25,40 |
| 811.0400813 | 39,93 | 40,08 | 40,08 | 46,99 | 13,00 | 16,00 | 25,98 |
| 811.0407712 | 40,69 | 40,84 | 40,77 | 49,23 | 12,70 | 16,28 | 25,40 |
| 811.0410012 | 40,84 | 41,00 | 41,00 | 49,23 | 12,70 | 15,88 | 25,81 |
| 811.0412807 | 41,20 | 41,35 | 41,28 | 47,63 | 7,95 | 11,13 | 25,81 |
| 811.0412814 | 41,20 | 41,35 | 41,28 | 47,63 | 14,30 | 17,48 | 20,65 |
| 811.0419111 | 41,83 | 42,01 | 41,91 | 53,01 | 11,30 | 14,50 | 21,49 |
| 811.0419114 | 41,83 | 42,01 | 41,91 | 53,01 | 14,30 | 17,50 | 21,01 |
| 811.0420114 | 41,83 | 42,01 | 42,01 | 53,01 | 14,30 | 17,50 | 21,01 |
| 811.0420613 | 41,99 | 42,14 | 42,06 | 53,01 | 13,97 | 17,50 | 21,01 |
| 811.0428807 | 42,80 | 42,95 | 42,88 | 48,41 | 7,95 | 11,13 | 22,23 |
| 811.0428814 | 42,77 | 42,93 | 42,88 | 48,41 | 14,30 | 17,48 | 22,23 |
| 811.0430012 | 42,85 | 43,00 | 43,00 | 48,41 | 12,70 | 15,88 | 21,44 |
| 811.0436614 | 43,56 | 43,71 | 43,66 | 51,59 | 14,30 | 17,48 | 20,65 |
| 811.0441709 | 44,09 | 44,25 | 44,17 | 52,40 | 9,53 | 12,70 | 20,65 |
| 811.0444509 | 44,37 | 44,53 | 44,45 | 52,20 | 9,53 | 12,70 | 20,65 |
| 811.0444513 | 44,37 | 44,53 | 44,45 | 52,40 | 13,49 | 15,88 | 22,30 |
| 811.0444514 | 44,37 | 44,53 | 44,45 | 52,40 | 14,30 | 17,48 | 20,65 |
| 811.0444519 | 44,37 | 44,53 | 44,45 | 52,40 | 19,05 | 22,23 | 20,65 |
| 811.0448614 | 44,73 | 44,88 | 44,86 | 52,40 | 14,30 | 17,48 | 20,65 |
| 811.0450114 | 44,93 | 45,09 | 45,01 | 53,01 | 14,00 | 16,99 | 20,62 |
| 811.0452416 | 45,16 | 45,31 | 45,24 | 53,98 | 16,94 | 20,32 | 26,97 |
| 811.0460514 | 45,95 | 46,10 | 46,05 | 53,09 | 14,30 | 17,48 | 25,40 |
| 811.0472214 | 47,17 | 47,32 | 47,22 | 54,76 | 14,30 | 17,48 | 25,40 |
| 811.0474522 | 47,40 | 47,55 | 47,45 | 55,58 | 22,58 | 26,04 | 25,40 |
| 811.0476304 | 47,55 | 47,70 | 47,63 | 55,96 | 4,45 | 7,49 | 18,90 |
| 811.0476307 | 47,55 | 47,70 | 47,63 | 55,96 | 7,49 | 10,54 | 18,90 |
| 811.0476309 | 47,55 | 47,70 | 47,63 | 55,96 | 9,53 | 13,11 | 26,67 |
| 811.0476314 | 47,55 | 47,70 | 47,63 | 55,96 | 14,30 | 17,48 | 25,40 |
| 811.0480314 | 47,93 | 48,08 | 48,03 | 56,01 | 14,00 | 16,97 | 24,99 |
| 811.0485609 | 48,49 | 48,64 | 48,56 | 56,36 | 9,53 | 12,70 | 25,40 |
| 811.0492314 | 49,12 | 49,28 | 49,23 | 56,36 | 14,30 | 17,48 | 25,40 |
| 811.0500114 | 49,91 | 50,06 | 50,01 | 57,00 | 14,00 | 16,97 | 24,99 |
| 811.0502914 | 50,22 | 50,37 | 50,29 | 58,75 | 14,30 | 17,88 | 26,67 |
| 811.0508014 | 50,72 | 50,88 | 50,80 | 61,11 | 14,30 | 17,48 | 25,55 |
| 811.0508022 | 50,72 | 50,88 | 50,80 | 61,11 | 22,23 | 25,40 | 25,40 |
| 811.0519912 | 51,82 | 51,99 | 51,99 | 62,71 | 12,70 | 15,88 | 34,52 |
| 811.0524019 | 52,25 | 52,40 | 52,40 | 62,71 | 19,84 | 23,83 | 34,93 |
| 811.0539812 | 53,92 | 54,05 | 53,98 | 61,52 | 12,70 | 19,05 | 32,54 |
| 811.0539819 | 53,95 | 54,10 | 53,98 | 61,52 | 19,84 | 23,83 | 34,93 |
| 811.0549919 | 54,91 | 55,07 | 54,99 | 62,00 | 19,99 | 22,99 | 31,75 |
| 811.0555819 | 55,52 | 55,68 | 55,58 | 63,50 | 19,84 | 23,83 | 33,35 |
| 811.0560112 | 55,83 | 56,01 | 56,01 | 64,29 | 12,70 | 15,88 | 33,35 |
| 811.0560119 | 55,83 | 56,01 | 56,01 | 64,29 | 19,79 | 23,77 | 80,01 |