BECA 570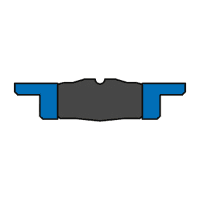 Description
The BECA 570 profile is a high-performing, double acting compact piston seal composed of a profiled rubber ring with special fibre reinforcements and a POM wear/back-up ring. It can be assembled in a groove according to standard ISO 6547.
Advantages
Good sealing effect
Excellent extrusion resistance
Excellent wear resistance
Reliable sealing for significant and sudden pressure variations
Technical data
Temperature

-30°C/+110°C

Pressure

40 MPa

Speed

0.5 m/s

Medias

Mineral hydraulic oils
Fire-resistant liquids
Biocompatible fluids
Water
Others (contact our experts)
Applications
Agriculture
Mobile machinery
Hydraulic cylinders
Materials
Profiled seal
Wear/back-up rings
Dimensions
Installation drawing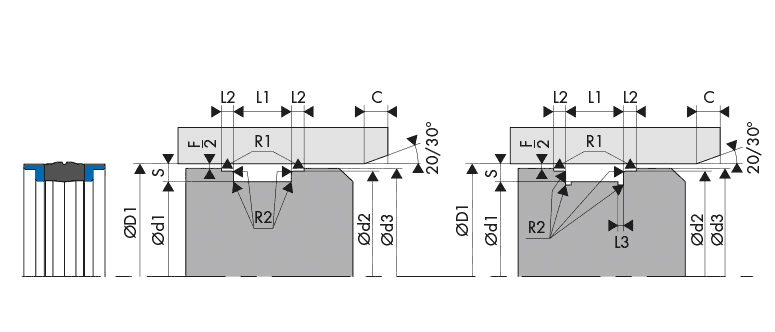 Materials
Fabric NBR 80 Shore A
The cotton fabric is impregnated with a nitrile (NBR) solution to make the hydraulic seals. This material creates a strong wear and degradation resistance. It has a good friction coefficient and is not likely to swell.
Polyoxymethylene - POM
Polyoxymethylene (POM or polyacetal) belongs to the thermoplastics, which have a number of advantages - strong mechanical resistance, good creep strength, high resistance to shocks, particularly at low temperatures, good wear resistance, good sliding coefficient, excellent machinability and good dielectric properties. The low water absorption coefficient, unlike polyamide (PA), also gives this material an excellent dimensional stability.
Chemical resistance

Aliphatic hydrocarbons (propane, butane, petroleum, diesel fuel)
Mineral oils and greases
Fire-resistant fluids (HFA, HFB and HFC)
Water

Compatibility issue
Acids
Temperature range
-50°C/+115°C
Technical data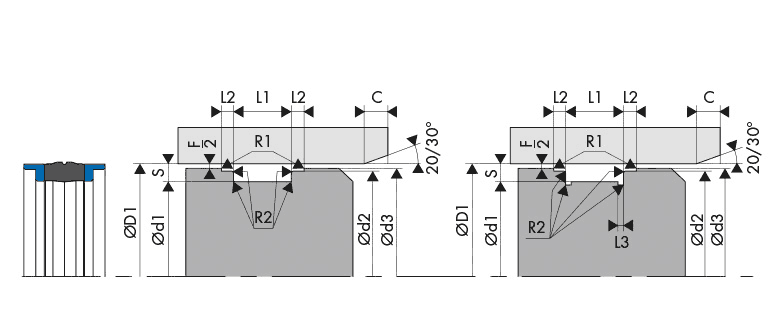 Surface roughness
| Roughness | Dynamic surface area | Static surface area | Groove flanks |
| --- | --- | --- | --- |
| Ra | 0.1 - 0.4 µm | ≤ 1.6 µm | ≤ 3.2 µm |
| Rz | 0.63 - 2.5 µm | ≤ 6.3 µm | ≤ 10.0 µm |
| Rmax | 1.0 - 4.0 µm | ≤ 10.0 µm | ≤ 16.0 µm |
Chamfers and radius
Radial section
S
Radius
R1
Radius
R2
Min. chamfer
C
4.00
0.40
0.40
2.50
5.00
0.40
0.40
3.00
6.00
0.40
0.40
3.00
7.50
0.40
0.40
4.00
8.50
0.40
0.40
5.00
10.00
0.80
0.80
6.00
15.00
0.80
0.80
8.00
50 dimensions found
| | | | | | | | |
| --- | --- | --- | --- | --- | --- | --- | --- |
| 570.R025AF8 | 25,00 | 17,00 | 21,00 | 24,40 | 13,50 | 3,20 | 2,10 |
| 570.3025AF8 | 25,00 | 17,00 | 22,00 | 24,00 | 10,00 | 4,00 | - |
| 570.S030AF8 | 30,00 | 21,00 | 27,00 | 29,00 | 13,50 | 2,10 | - |
| 570.R030AF8 | 30,00 | 22,00 | 26,00 | 29,40 | 13,50 | 3,20 | 2,10 |
| 570.0030AF8 | 30,00 | 22,00 | 26,00 | 29,40 | 13,50 | 3,20 | - |
| 570.R032AF8 | 32,00 | 24,00 | 28,00 | 31,40 | 15,50 | 3,20 | 3,10 |
| 570.3032AF8 | 32,00 | 24,00 | 29,00 | 31,00 | 10,00 | 4,00 | - |
| 570.0035AF8 | 35,00 | 27,00 | 31,00 | 34,40 | 15,50 | 3,20 | - |
| 570.R035AF8 | 35,00 | 27,00 | 31,00 | 34,40 | 15,50 | 3,20 | 3,10 |
| 570.2040AF8 | 40,00 | 30,00 | 35,40 | 38,40 | 16,30 | 6,35 | - |
| 570.0040AF8 | 40,00 | 32,00 | 36,00 | 39,40 | 15,50 | 3,20 | - |
| 570.R040AF8 | 40,00 | 32,00 | 36,00 | 39,40 | 15,50 | 3,20 | 3,10 |
| 570.3040AF8 | 40,00 | 32,00 | 37,00 | 39,00 | 10,00 | 4,00 | - |
| 570.0045AF8 | 45,00 | 37,00 | 41,00 | 44,40 | 15,50 | 3,20 | - |
| 570.R045AF8 | 45,00 | 37,00 | 41,00 | 44,40 | 15,50 | 3,20 | 3,10 |
| 570.0050AF8 | 50,00 | 38,00 | 46,00 | 49,40 | 20,50 | 4,20 | - |
| 570.3050AF8 | 50,00 | 40,00 | 47,00 | 49,00 | 12,50 | 4,00 | - |
| 570.0055AF8 | 55,00 | 43,00 | 51,00 | 54,40 | 20,50 | 4,20 | - |
| 570.0060AF8 | 60,00 | 48,00 | 56,00 | 59,40 | 20,50 | 4,20 | - |
| 570.0063AF8 | 63,00 | 51,00 | 59,00 | 62,40 | 20,50 | 4,20 | - |
| 570.3063AF8 | 63,00 | 53,00 | 60,00 | 62,00 | 12,50 | 4,00 | - |
| 570.0065AF8 | 65,00 | 53,00 | 61,00 | 64,40 | 20,50 | 4,20 | - |
| 570.0070AF8 | 70,00 | 58,00 | 66,00 | 69,40 | 20,50 | 4,20 | - |
| 570.0075AF8 | 75,00 | 63,00 | 71,00 | 74,40 | 20,50 | 4,20 | - |
| 570.3080AF8 | 80,00 | 65,00 | 76,00 | 78,50 | 20,00 | 5,00 | - |
| 570.0080AF8 | 80,00 | 66,00 | 76,00 | 79,40 | 22,50 | 5,20 | - |
| 570.0085AF8 | 85,00 | 71,00 | 81,00 | 84,40 | 22,50 | 5,20 | - |
| 570.0090AF8 | 90,00 | 76,00 | 86,00 | 89,40 | 22,50 | 5,20 | - |
| 570.3100AF8 | 100,00 | 85,00 | 96,00 | 98,50 | 20,00 | 5,00 | - |
| 570.0100AF8 | 100,00 | 86,00 | 96,00 | 99,40 | 22,50 | 5,20 | - |
| 570.0110AF8 | 110,00 | 96,00 | 106,00 | 109,40 | 22,50 | 5,20 | - |
| 570.0120AF8 | 120,00 | 106,00 | 116,00 | 119,40 | 22,50 | 5,20 | - |
| 570.3125AF8 | 125,00 | 105,00 | 120,00 | 123,00 | 25,00 | 6,30 | - |
| 570.0125AF8 | 125,00 | 108,00 | 121,00 | 124,40 | 26,50 | 7,20 | - |
| 570.5130AF8 | 130,00 | 105,00 | 122,60 | 127,50 | 25,30 | 3,50 | - |
| 570.3140AF8 | 140,00 | 120,00 | 135,00 | 138,00 | 25,00 | 6,30 | - |
| 570.0140AF8 | 140,00 | 123,00 | 136,00 | 139,40 | 26,50 | 7,20 | - |
| 570.0150AF8 | 150,00 | 133,00 | 146,00 | 149,40 | 26,50 | 7,20 | - |
| 570.5160AF8 | 160,00 | 140,00 | 155,00 | 158,00 | 25,00 | 6,30 | - |
| 570.0160AF8 | 160,00 | 143,00 | 156,00 | 159,40 | 26,50 | 7,20 | - |
| 570.0170AF8 | 170,00 | 153,00 | 166,00 | 169,40 | 26,50 | 7,20 | - |
| 570.3180AF8 | 180,00 | 150,00 | 172,00 | 178,00 | 36,00 | 7,20 | - |
| 570.0180AF8 | 180,00 | 163,00 | 176,00 | 179,40 | 26,50 | 7,20 | - |
| 570.3200AF8 | 200,00 | 170,00 | 192,00 | 197,00 | 36,00 | 12,50 | - |
| 570.0200AF8 | 200,00 | 180,00 | 196,00 | 199,40 | 31,50 | 9,20 | - |
| 570.0220AF8 | 220,00 | 200,00 | 216,00 | 219,40 | 31,50 | 9,20 | - |
| 570.0250AF8 | 250,00 | 230,00 | 246,00 | 249,40 | 31,50 | 9,20 | - |
| 570.0320AF8 | 320,00 | 290,00 | 312,00 | 317,00 | 36,00 | 12,50 | - |
| 570.0400AF8 | 400,00 | 360,00 | 392,00 | 397,00 | 50,00 | 16,00 | - |
| 570.0500AF8 | 500,00 | 460,00 | 492,00 | 497,00 | 50,00 | 16,00 | - |